If you buy an item via links on this page, we may earn a commission. Our editorial content is not influenced by commissions. Read the full disclosure.
Are you tired of cleaning your house or home using a mop, bucket, and water? Well, you might want to consider using a vacuum mop combo that will leave your floor dirt-free and save you time.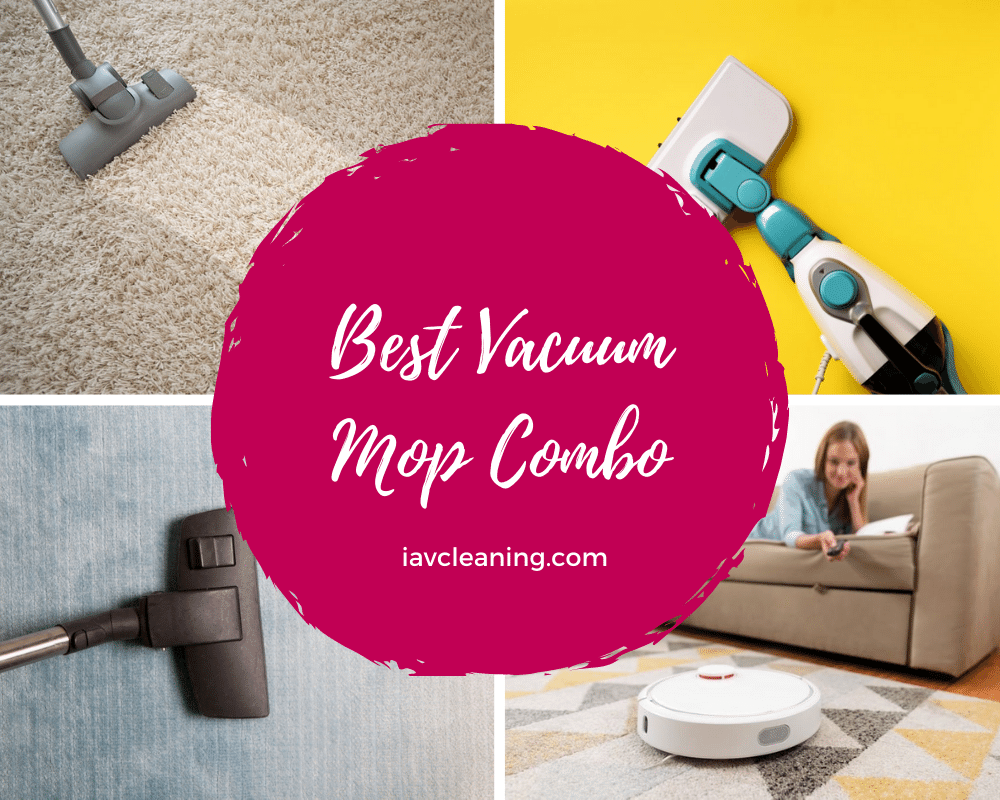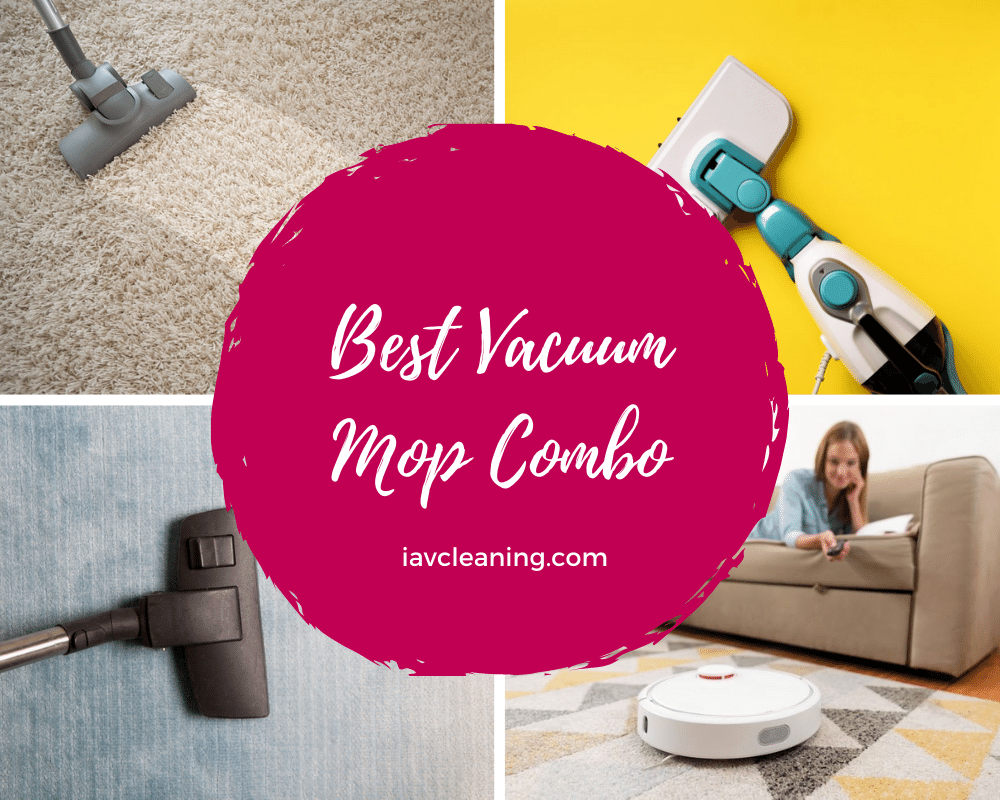 Unless you have the right equipment, cleaning your floors or carpets can be a daunting and overwhelming task. While a mop can wipe grime and mess off the floor, it cannot dislodge dust in hard to reach areas. A vacuum on the hand does a good job at removing fine dust but may not remove particles that are stuck on the floor. For this, reason, you need a combination of the two which comes in the form of a vacuum mop combo.
A vacuum mop combo works by releasing power steam and sucking up all the dirt and debris. It cleans and sanitizes all at once leaving the surface sparkling clean. In this article, we will look at some of the best vacuum mop combos in the market and their buying guide.
Benefits of the Best Vacuum Mop Combo
1. Saves Time
The best vacuum mop combo is very efficient and effective at cleaning even the stubbornest stains. Most of these appliances vacuum, mop, and steam all at once and this helps save a lot of time.
2. They Clean The Air
Compared to other cleaning techniques, the best vacuum mop combo can help purify the air.
3. Hygienic Cleaning
Since vacuum mop combos use heat and steam, they are able to kill 99.9% of germs and bacteria. What's more, other vacuum mop combos can kill pests and insects with the power of steam. This ensures hygienic cleaning even in the hard-to-reach areas.
How To Choose The Best Vacuum Mop Combo
1. Type Of Floor
While most vacuum mop combos are designed to work in a variety of floors, others are designed to work only on specific floors. For this reason, it is important that you understand your type of floor and choose the best vacuum mop combo that is suited for it.
2. Size And Weight
Another important factor that you should consider before making your purchase is the size and weight of the appliance. You want to ensure that the product you choose is easy to manage and transport. Also, weight matters depending on who is going to use the machine. When it comes to size, ensure that the appliance fits perfectly in the storage space available.
3. Flexibility
The best vacuum mop combo should be adaptable and be used for multiple purposes. What's more, a machine that comes with multi-surface cleaning head can do almost everything at one go. This way, you will save a lot of time and money in the long run since you won't need to purchase other machines in the future.
4. Steaming Time
Additionally, take into consideration the time required to steam or clean your home or office. An ideal vacuum mop combo will do the work quickly and within the shortest time possible.
Top 5 Best Vacuum Mop Combo Reviews
1. Roborock S5 Robotic Mop and Vacuum Cleaner
This is, without doubt, the best robot mop and vacuum cleaner that uses sweeping and mopping technique that leaves your surface sparkling. Roborock S5 makes use of the latest smart technology like navigation maps and route plan to evaluate an efficient route for cleaning the room.
A unique spec that makes this appliance one of my favorite is the self-charge ability that allows it to resume where it left and complete the job. Besides, it is equipped with a 5200Ah battery that runs for 150 minutes non-stop. This makes it ideal for mopping and vacuuming larger rooms.
Another impressive feature is the smart app controls that help with scheduling, spot cleaning, zone cleaning, real-time monitoring and many more. Plus, the app is compatible with Alexa voice control, IOS, and Android.
Pros:
Powerful suction of 2000Pa
Great for cleaning large rooms
Ability to recharge and resume to work
Equipped with anti-collision sensors that ensure safety
Functions using smart App controls
Advanced climbing ability for areas with obstacles
Self-adjustable brushes
Clip-on water tank
Cons:
Does not to the corners of the room
The brush is likely to clog
Some plugs are only designed to work in the US
2. BISSELL CrossWave Pet Pro All-in-One Wet/Dry Vacuum Cleaner & Mop, 2306A
Does your home have pets and you need suitable equipment that will vacuum and wash your floors all at once? Then you might want to consider the BISSELL CrossWave 2306A that features a pet brush roll and pet hair strainer that makes cleaning multiple surfaces possible.
Unlike most vacuum mop cleaners, it also comes with a specialized cleaning solution that does a good job at eliminating pet odors. I also love the fact that it is fitted with a brush made of microfiber and nylon that is designed to not only pick up debris but to also mop the surface.
Pros:
Saves time by washing and vacuuming the surface in one easy step
Eliminates pet odors with the specialized pet solution
Safe for use on numerous surfaces like tiles, carpets, pressed wood floor, sealed wood floors
Equipped with pet hair strainer that makes cleaning easy
Switches easily from an upright vacuum mop to a handheld vacuum cleaner
Easy assembly
The brush roll is tangle-free to reduce hair fro wrapping around during cleaning
Cons:
May not be ideal for cleaning long dog hair as it may clog the vacuum
Some users complain that it leaves streaks of dirty water
3. BISELL CrossWave Floor and Carpet Cleaner with Wet-Dry Vacuum, 1785A
Aside from the fact that is manufactured by a reputable company, we love the BISELLL CrossWave because it is loaded with amazing features. To start with are the smart touch controls that allow you to switch between the different cleaning operations with just a touch on the knob.
So whether you want to use the vacuum, steam or both, you can do that with the touch controls on the handle. Also, you can easily switch between cleaning the area rugs and hard floors.
This multi-surface cleaning machine is ideal for bare floors, laminate floors, and sealed floors. It also does a good job at cleaning different upholstery and carpets thanks to the multi-surface brush roll that mops and simultaneously captures debris. I also love the two-tank system technology that keeps the dirty water separate from the cleaning solution. This allows me to clean with fresh solution every time.
Pros:
Features smart touch controls that let you control the appliance
The two-tank system ensures exceptional cleaning results
Multi-surface cleaning for bare, laminate and sealed floors
Fitted with dual-action brush roll for picking debris and mopping
Easy cleaning and maintenance
Cons:
Leaves dirty streaks even after continuous cleaning
Design flaw after several uses
4. BISSELL 1940 Powerfresh Cleaner
This vacuum mop cleaner is designed for providing superior steam cleaning for tough messes on the floor. It is an effective cleaning tool that is designed for hard floors like ceramic, sealed hardwood, granite, marble floors, and linoleum floors. The superior and natural steam eliminates 99.9% of germs and bacteria leaving you with a clean and sanitized floor.
This appliance has built-in easy scrubber which can help you cut through the stubborn and dried-on mess stains without much effort. Also, this product allows you to put in the spring breeze fragrance disc into the pads so that you can enjoy the fresh scent as you steam clean.
If you have different steam cleaning needs, you will love that this powerful vacuum steam mop has steam controls. It offers 3 steam levels that enable you to customize your steam cleaning needs with just a simple touch.
Pros:
Offers multi cleaning for hard floors like ceramic, sealed hardwood, marble floors
Customizable steam control
Power steam eliminates germs and bacteria
Easy scrubber removes dried-on messes
Removable water tank that is easy to refill
Features spring breeze fragrance for a fresh scent
Sensible cord length
Easy to assemble
Cons:
Lack of consistency in the steam controls
Cord length may be short for some users
Water bottle cap is prone to breaking and leakage
5. Symphony All-in-One Vacuum and Steam Mop
The BISSELL Symphony is a revolutionary vacuum and mop steam that can clean your hard floors without harsh chemicals. With this machine, you can choose to vacuum, steam or use both at once go. I appreciate that this is a powerful cyclonic vacuum as this allows me to capture all the dirt and debris in my office space.
An impressive spec of this feature is the easy touch digital controls that let you customize your cleaning by switching between functions. This way, you can mop, vacuum and steam at the same time. It also features a quick-release mop pad tray that makes it easy to change the mop pads.
With the dry tank technology, you can be assured that the dirt tank remains moisture-free as you clean. To ensure that your floors and carpets are sanitized, this vacuum and mop combo use just water to get rid of germs and bacteria.
Pros:
Ideal for cleaning all types of sealed floors
Features dry tank technology
Detachable mop pad tray makes switching mop pad easy
Kills bacteria and germs
Easy to use because of the touch controls
Cons:
Filter dislodges occasionally
Steam function may fail after extended use
Conclusion
Whether you want to clean your home or office, these vacuum mop combos offer the perfect cleaning solutions. These products are powerful and come with exceptional features that will give you value for your money.
Nonetheless, the Roborock S5 Robotic Mop and Vacuum Cleaner tops them all as it uses the latest technology to get the work done without any omissions. It also has a high suction power and can work for 150 hours without stopping. The fact that it comes with a smart app means that you will have an easy time cleaning and mopping various types of floors and rags.
Recommended Reading: