If you buy an item via links on this page, we may earn a commission. Our editorial content is not influenced by commissions. Read the full disclosure.
How to clean your upholstery? How often should do it? What's the best cleaner? You'll find out the answers with our best upholstery steam cleaner reviews!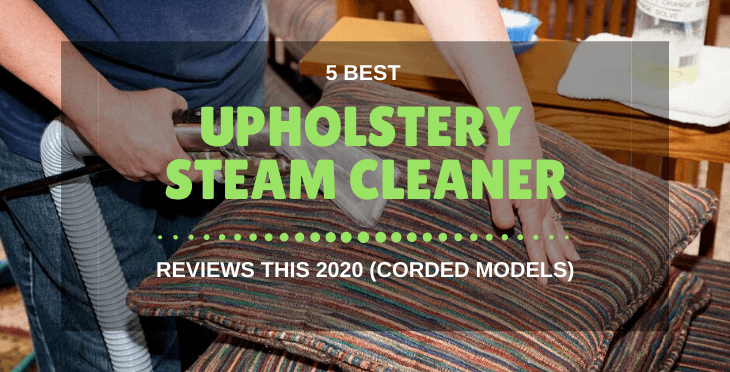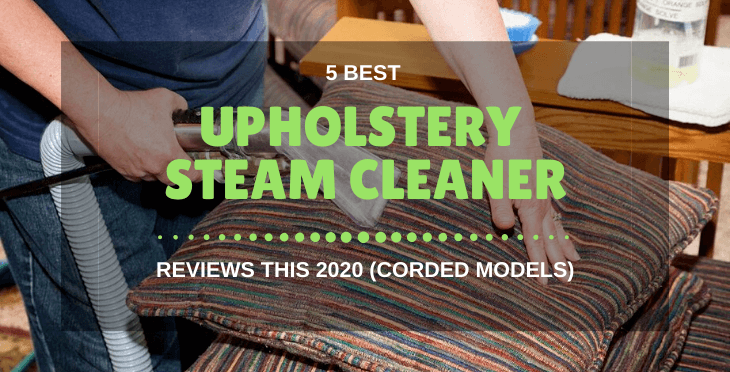 Upholsteries are not one that can be easily cleaned. That is why most people chose to clean it once every three months. Moreover, washing your upholsteries in water through machine wash is completely out of the question. What you need is the best upholstery steam cleaner.
Why can't you machine wash your upholsteries?
Well, aside from the fact that it is such a hassle undertaking, this method will also damage your sofas and beds. What's more, moisture may be trapped inside, thus making for a good breeding environment for microorganisms.
If you are seeking for the best upholstery steam cleaner to buy, we have rounded up 5 of the most reliable products in the market at the moment.
Check out our quick comparison table below:
For the detailed reviews, do continue reading:
5 Best Upholstery Steam Cleaner Corded Reviews
1. McCulloch MC1275 Carpet and Upholstery Steam Cleaner
Looking into the features and warranty plan of this steam cleaner, it is no wonder why it's one of the most talked-about in various upholstery steam cleaner reviews. It's a versatile, reliable, and fairly affordable steam cleaner that can be used to clean carpets, upholsteries, appliances, floors, and even countertops.
McCulloch MC1275 belongs to the heavy-duty steam cleaner category with a total of 1500 Watts power. You can use this cleaner for as long as 2 hours without interruption. On top of that, this also comes with 18 accessories that make your steam cleaning more efficient and faster.
Why Do Customers Love It?
The main reason for most buyers is that it is a complete steam cleaner kit. With 18 accessories and attachments, you can do si much more with this single tool. A lot of people considered this the best value upholstery steam cleaner.
Pros:
A heavy-duty and versatile cleaner
Suitable for carpets, upholsteries, appliances, counters, and floors
Cleans fabric and padded furniture gently yet deeply
Makes use of chemical-free cleaning technique
Can be operated for as long as 2 hours
Has 15.7 feet power cord with 9 feet hose
Backed by a 2-year warranty
Certified safe and has met the US safety standards
Cons:
Must be used on US voltage standard, so an adapter is needed when used outside the country
Can get really hot, so do a test first
2. Wagner Spraytech C900053.M Multi-Purpose Steam Cleaner
This is a multi-purpose steam cleaner that comes with various attachments and accessories. Specifically designed for home use, you can expect this machine to clean almost all parts of your house, from windows, floors, to kitchen countertops as well as upholsteries and furniture.
Considering the price, you'll get more than what you pay for with this steam cleaner. This is also light and portable, so it is easy to transfer from one room to another.
Why Do Customers Love It?
People love this machine for its durability, comfort, and accuracy. With its pressurized steaming power, germs and bacteria will be sucked and killed in just one go, and surely, a lot of users have noticed it. That is why it has been consistent on top of most upholstery steam cleaner reviews.
Pros:
Makes use of chemical-free cleaning
Can withstand up to 290 degrees Fahrenheit
Can do non-stop cleaning for up to 45 minutes
Can accomplish a lot of household cleaning projects
Suitable for hard floors, ceramics, tiled countertops without leaving any streaks
Comes with a total of 17 accessories
With 40-ounce water tank
Has long reach with 6 feet hose
Cord length is 16 feet
Cons:
Takes around 20 to 30 minutes to heat the water
Very efficient in cleaning carpet and upholstery but not much for bathroom grimes and tile stains
3. Pure Enrichment PureClean Multi-Purpose Steam Cleaner
This 1500 Watts steam cleaner is suitable for deep cleaning purposes. What's the best thing about it is that it is also a multi-purpose steam cleaner with efficient steaming power.
Unlike other steam cleaners, it has its own safety features which make cleaning even easier and hassle-free. If you aim to buy a steam cleaner that does not only cleans furniture, upholstery, and carpets, but also cleans floors and tiles, then this is the one for you.
Why Do Customers Love It?
Many are happy that it can hold around 1.5 liters of water. Furthermore, it is also very light to carry around even for petite people, so a lot of women are singing praises fr this steam cleaner. It's easy to use too, so no need to ask how to clean upholstery with a steamer.
Pros:
Durable, sturdy and built really well
Has a targeted steaming spray to ensure a deep cleaning
Cleans without using any harsh chemicals
Comes with 18 accessories
Can run up to 45 minutes of cleaning
Has extra long cord of 16 feet length
Backed by a 5-year warranty service
Can remove grease, grime, dirt, and molds from your carpets and upholsteries
Works well with ceramics and granite floorings
Easily fits into corners
Cons:
Takes 15 to 20 minutes to heat the water
Can clean small and thin stains but does not work well with sticky and stubborn ones
4. AutoRight C900054.M Multi-Purpose Steam Cleaner
AutoRight is yet another multi-purpose steam cleaner on our list. It is a carpet and upholstery steam cleaner that also doubles as a car steam cleaner.
This versatile machine helps dissolve grease and grime that usually sticks on carpets and upholsteries around your home.
Why Do Customers Love It?
People who own a car really love this steam cleaner. It has a steaming pressure of 55 PSI which a lot of users think is perfect for car windows, car seats, and dashboards. It also fits at the back of the car, so a lot are happy that it is easy to carry around.
Pros:
Can set at high-temperature steam
Removes stains, grease, and dirt
Water tanks hold up to 40 ounces
Hose length is 8 feet long
Can do continuous cleaning for up to 45 minutes
Only uses distilled water; no chemicals needed
The best steam cleaner for auto care
Can heat the water for only 10 minutes
Lightweight and flexible
Comes with 11 accessories
Cons:
The brushes are not heat resistant
5. Steamfast SF-275 Steam Cleaner
The final cleaner on our list is this canister steam cleaner from Steamfast. This is also a 1500-watts cleaner with deep cleaning features. It also comes with attachments and accessories, so you can do more house cleaning tasks.
Why Do Customers Love It?
People love the fact that it works well with regular tap water, unlike other models that specifically need distilled water. Also, the water tank of this cleaner is bigger than most models.
Pros:
Naturally cleans upholstery and carpets
With 17 accessories and attachments
Can be used to clean tiled floors and sealed hardwood flooring
Performs steaming work or up to 45 minutes
Kills bacteria and dirt on your sofas and beds
Has 12 feet power cord
Has spray and foam features as well
Cons:
Must be cooled down first before the tank can be refilled, so it would take a while
Can't be use for fabric steaming
There you have it, our top 5 best multi-purpose upholstery steam cleaners this 2020. All the 5 machines mentioned above are corded, so if you are looking for a handheld version, watch out for our reviews about it.
Want to know our favorite from the list?
It's the Pure Enrichment PureClean Multi-Purpose Steam Cleaner. It has 18 accessories, fits the corner, and only takes around 15 minutes to be heated.
Recommended Reading: