If you buy an item via links on this page, we may earn a commission. Our editorial content is not influenced by commissions. Read the full disclosure.
Are your gutters filthy and need a thorough cleaning? We've got a few tips on how to clean outside of gutters. These tips should help you get the job done.
As part of maintaining your home, you'll need to do a lot of gutter cleaning. Because of outdoor factors such as fallen leaves, dirt, mold, and other things, the gutters can get clogged up and depreciated. In fact, clogged and dirty gutters can make your whole house dirtier on an overall level. Thus, you have to clean the gutters regularly.
If you don't know how, then we've got a short guide on how to clean outside of the gutters.
Check it out below:
How to Clean Outside of Gutters Effectively
Now that you know some important things about rain gutters, we can move on to the short guide on how to clean outside of the gutters. This guide will show you both the quickest and the best way to clean gutters so that you can finish the task in a breeze.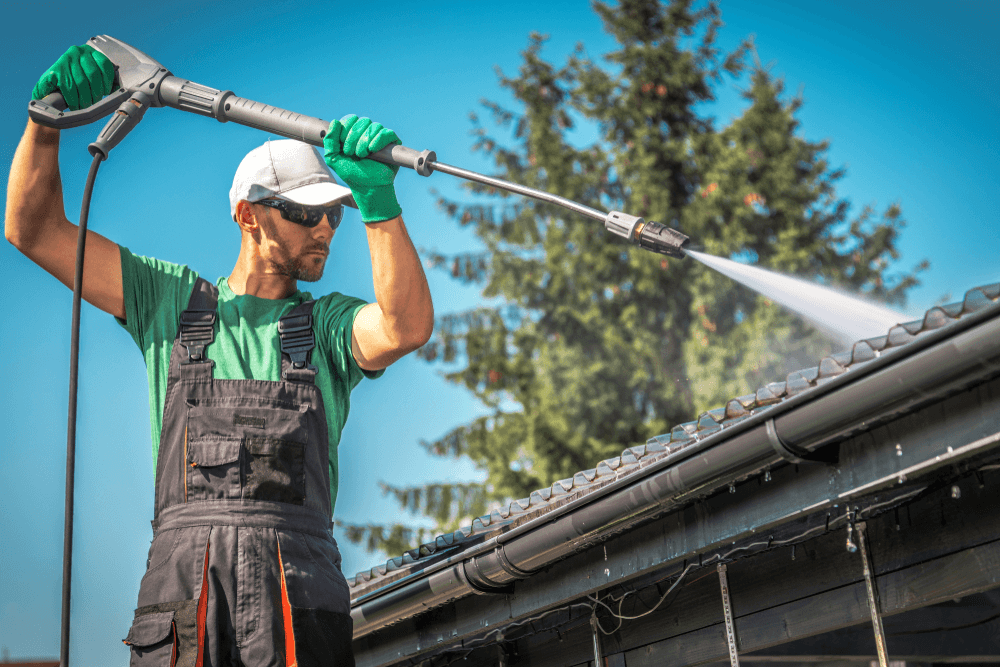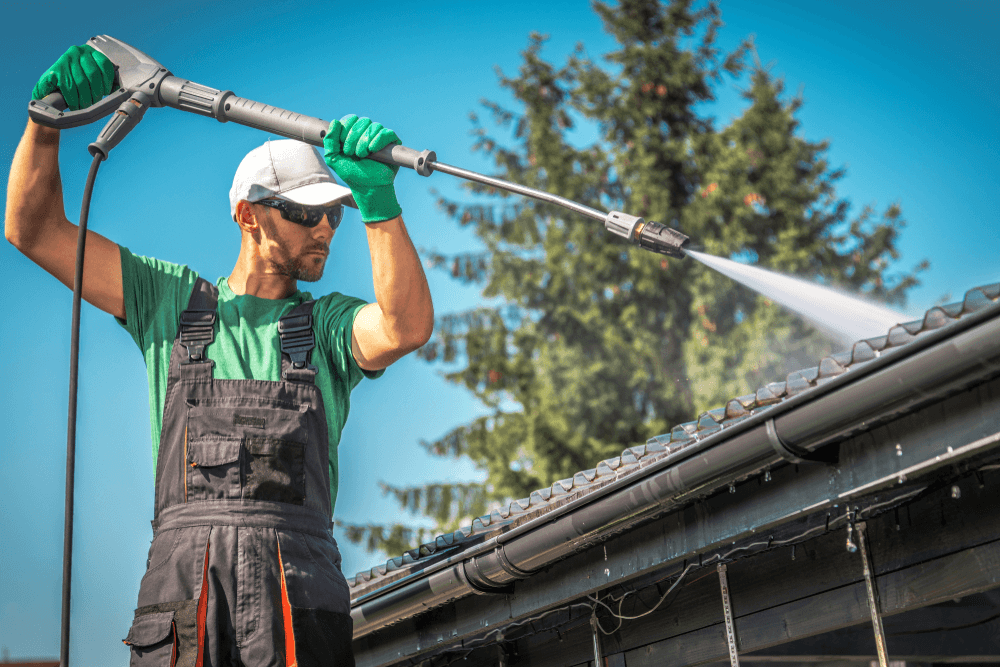 Here are some tips on how:
Get a garden trowel and try to scrape out as much dry dirt stuck to the outside of gutter as possible.
Use the same trowel to push away any leaves that you see in the way.
Bring up your medium-range pressure washer machine and rinse the outside of your gutter.
Spray or apply some gutter cleaning solution on the outside gutter area.
Spray the entire gutter and let it sit for around ten seconds.
Get a soft bristle brush (most pressure washer brands also sell a brush that is compatible with the unit) and scrub out all the stains/mold/grime that you can find.
Scrub each section of the gutter gently but thoroughly.
Rinse thoroughly using a pressure washer 45-degree nozzle and then use a cloth to wipe away the solution.
This simple process makes up how to clean outside of your gutters. When cleaning the gutters, you have to do it regularly and based on the situation. That said, it's possible that you'll have to clean your gutters more than four times in a year depending on factors that may affect its cleanliness. While the process we've given is the easy way to clean outside of gutters, cleaning still does take up a lot of time and effort.
To minimize all that, what you can do is you can actually install gutter protection. There are a lot of companies that offer gutter protection systems so that leaves won't get stuck, grime won't seep to the inside, and molds can hardly grow. With that, you won't have such a hard time with cleaning.
In the event that you can't get one though, the steps mentioned above are good enough.
What Is a Rain Gutter?
Of course, it's important to first know what a gutter is and how it works before you learn the easiest way to clean outside of gutters. That said, we'll go over some facts about rain gutters quickly.
Rain gutters are those white structures that can be found at the edge of your home's roof. The main purpose of the rain gutter is to direct the rain in one direction so that it won't splatter off the roof and on to the other parts of the house or the soil surrounding the house.
If ever it does get clogged, then the water will overflow from the gutter to the other parts of your home. That's why you need to clean it regularly and learn how to clean outside of the gutters well.
How Often Do You Need to Clean Outside of Gutters?
A very common question that a lot of people ask is how often they need to clean the gutters outside. Well, a standard that most experts recommend is around twice a year when there are a lot of falling leaves and the possible growth of mold or other plants in that area (this is around autumn and spring). However, there are times when you have to even clean your gutters outside of this schedule.
For instance, if ever you notice ice starting to form on the outside of your gutters, clean them away as soon as possible so that they won't build toward the inside and create a blockage. Also, you might want to clean away mold that grows not only in spring but possibly even in summer since they can spread from the outside to the inside of the gutter.
So, while you have your usual schedule, you must also know how to move based on the situation. You may also want to quick-rinse your gutters every month using a reliable pressure washer machine.
Conclusion
Gutters play a crucial role in keeping the house and its surroundings free from getting hit by unwanted rainwater. With that in mind, they do need to be cleaned pretty regularly. It's important to learn how to clean outside of the gutters so that you can prevent substances from entering the inside and clogging up the whole system.
So, if you haven't tried cleaning the outside of gutters before, let our guide help. Things will be easier for you now that you know the proper way.
Recommended Reading: