If you buy an item via links on this page, we may earn a commission. Our editorial content is not influenced by commissions. Read the full disclosure.
Tired of using a brush to clean your carpets? Or your mops are not cleaning your tiles but making a mess? Are you tired of scrubbing hard to remove stains?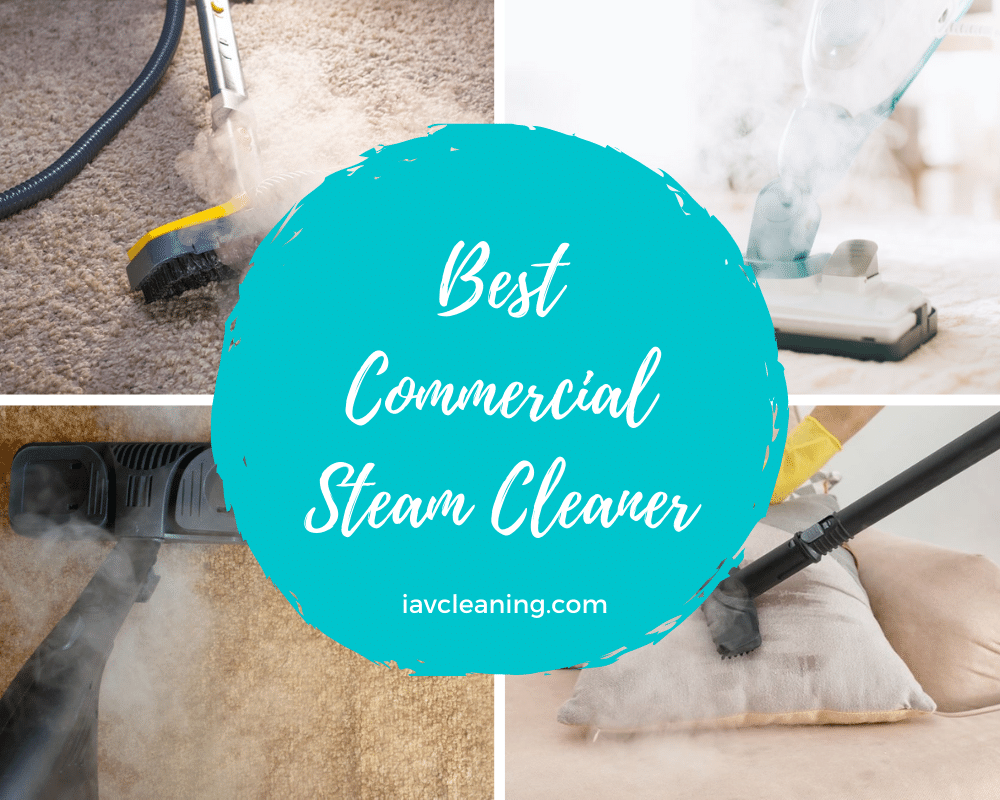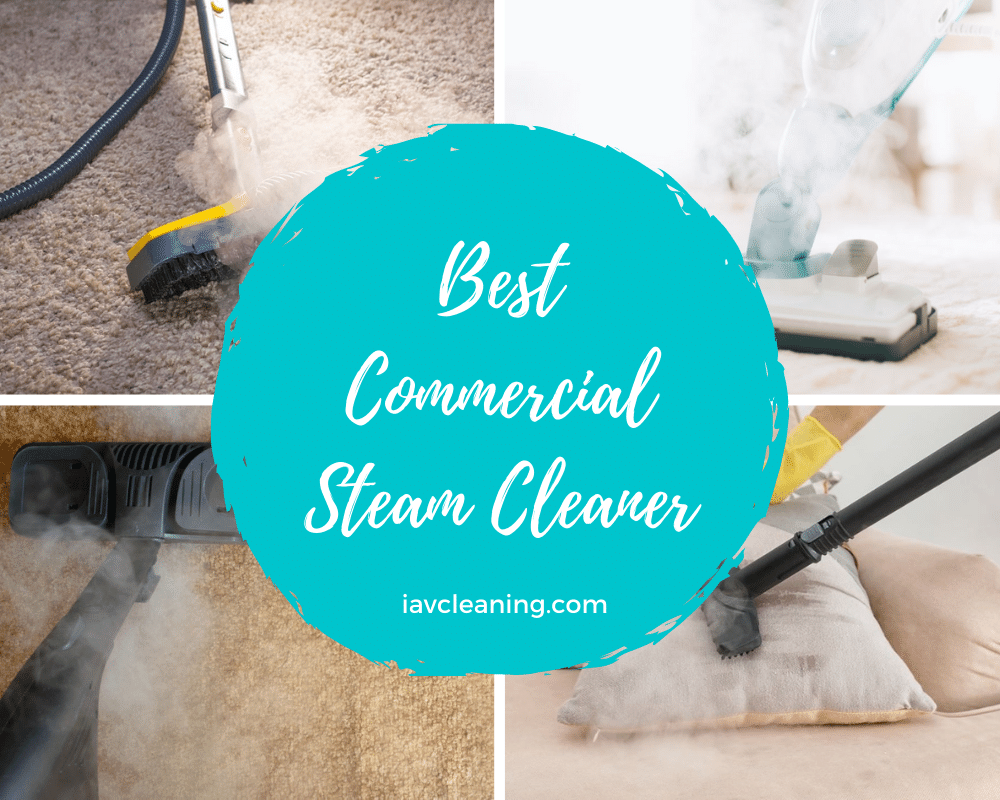 No need to worry!
Steam cleaners would be the best solution to your problems! Here is the list of what best commercial steam cleaners you should look for future use.
The use of steam cleaners has become the latest trend in the cleaning service-related industries, and now it is forging its way forward to become a common household cleaning essential. Not only limited to its powerful ability to remove hard-to-scrub stains, but a steam cleaner is also beneficial and cost-effective, eco-friendly, and protects your furniture from being scratched or damaged.
How does a steam cleaner work?
A steam cleaner has a simple mechanism. It only needed water as the main key material – it doesn't have to be fresh water, just plain old water is fine since steam can still be generated. The water will be heated to its boiling temperature. This will result in pressurized steam that will be guided throughout a nozzle, or any attached exit, towards the selected area.
The generated high temperature directly eliminates 99.9% of harmful bacteria, germs, allergens, and stops molds from further growth. The vapor pressure loosens the dirt from the surfaces, could penetrate up to the pores of the fabrics killing off hidden dust mites and small bugs. However, don't worry since the high-heat moisture property of the steam keeps it from drying instantly.
What places or objects can be steam cleaned?
Surprisingly, steam cleaning can almost be applied to any surface. Certain models can be used on soft-clothed surfaces like mattresses, curtains, carpets, pillowcases, and upholstery. Other models used for household cleaning surfaces include hardwood floors, sealed tile floors, countertops and bathroom fixtures, grills, glass, and more. The more heavy type cleaners could be used in rough and tough surfaces. Just take into consideration the model of your steam cleaner since some models are specific on which surface it should be applied.
What places or objects can't be steam cleaned?
Surfaces that are coated in plastic or paint should be avoided since these materials are highly reactive to temperature rise and some can be ruined by moisture. This includes painted walls, unsealed hardwood floors, or unglazed tiles, porous materials, and some delicate surfaces. Also, consider the condition of the surface to be steam cleaned, for example, cold windows, since it will probably break.
What Steam Cleaner Should You Choose?
Steam cleaners come with different types and functions. Some steam cleaners have only a specific work function while the others allowed special attachments to accommodate cleaning. If you are planning to buy a steam cleaner, there are things that you should consider before purchasing it. Choosing the right steam cleaner saves you from spending too much. Here are the factors that you should evaluate:
Function: Ensure the viability of your steam cleaner. You should know what places it can clean and what possible attachments are needed when applying on certain surfaces. The steam quality should also be checked since lower steam pressure might lead to less efficient cleaning.
Warm-up time: Consider the time for the water to heat up. You would want a steam cleaner the easily heats up or at least would give a shorter waiting time.
Tank size: The larger the tank, the more water it can hold. More water can be stored lessens the time of refilling and reheating it again. Some cleaners include a back-up tank for continuous fill.
Heat: For greater sanitizing effect, choose a steam cleaner that can generate higher steam temperature. Also, higher temperature gives off drier steam, lowering the likelihood of damaging delicate surfaces.
Price: Of course, prices come with warranties and additional attachments.
5 Steam Cleaners that Might Suit Your Taste
1. Vapor Steam Mop by Comfyer
This steam cleaner by Comfyer is a floor steamer that has multiple cleaning modes with three microfiber pads for laminate floors, hardwood, and carpet. It has a powerful heating system with only a fifteen-second reheating time.
Pros:
Lightweight and easy to use
There is less moisture that dries very easily
Effortless in removing tough stains and dirt on floors
Has high tank capacity that can withhold up to thirty minutes runtime
The long distant cord could reach up to 26 feet, a good use for wider areas
Flexible design that could reach tight-close corners
It has replaceable washable microfiber pads that come in different types and a suitable carpet glider for your carpets
It has an intelligent Steam control to protect the cleaning surface, also a temperature control system and built-in fuse to ensure the safety of the user
2. S7338 Steam Mop by LIGHT 'N' EASY
Steam mops by LIGHT 'N' EASY are powerful floor steamer cleaner mops with automatic steam control for hard floor, carpet, laminate, and grout. It comes in a white violet design, with a unique square steam mop that can easily be swiveled and maneuver fit for cleaning corner and room edges.
Pros:
Easy to use
It has a large water tank fit for cleaning wider spaces and lesser refilling times. A small transparent window is installed to show the level of water left.
It has a quick-release cord mechanism that is 20 feet long, enough to move around a wide room without changing outlets for power
Rotation is good and moves easily even only by using a single hand
Steam only works when in motion, and would stop when it stops. It also does not leave any water traces on the surface.
Its unique design keeps it stand upright occupying a little storage area.
Cons:
Cleaning the mopping cloth is a bit of a hassle. It's not disposable so it can be reused many times.
The pads should be changed frequently or else it will leave streaks on the tiles.
3. Neat Steam Cleaner by Dupray
The Neat Steam Cleaner by Dupray is a multipurpose heavy-duty steamer for floors, cars, home use, and many more. It has a powerful superheated steam that can reach up to 275 degrees Fahrenheit, and fifty-minute cleaning time. There is no need to use any special pads, any regular towel will do.
Pros:
It is very easy to assemble and the instructions are easy to follow
The parts are made durable with a simple design
The steam has an amazing cleaning power that can easily dissolve sticky messes without leaving any residue
It can clean greasy wood surfaces without the need of replacing the pads
It has a quiet function for smooth cleaning
One tank could last a very long time
Instead of pads, it can be replaced by paper towels or disinfecting wipes
Cons:
There is no water indicator to show the water level inside the tank
It takes at least fifteen to twenty minutes to refill water in the tank
The unit handle becomes very hot when used for a long time
Leaves a few water traces on the surface
4. ONE Steam Cleaner By Dupray
One Steam Cleaner by Dupray has powerful steam that could reach 303 degrees Fahrenheit with adjustable pressure. It has a fifteen-minute cleaning time per fill up. The package comes with a 16-piece quality accessories.
Pros:
Easy to use and cleans very well
Directions for use are easy to follow
It can produce high-temperature steam and the adjustable steam output comes in handy
One tank could last at least 45 minutes up to one hour
It can be used to steam clothes, cabinets, sinks, and beds
Its extension handle is helpful when cleaning the floor and reaching out close corners
Cons:
The steamer consumes a larger storage area
5. Heavy-Duty Steam Cleaner by McCullouch
The heavy-duty steam cleaner by McCulloch is a professional steam cleaner that has versatile use and attachments. It is designed to clean dirt from tough areas, like the garage and workshops. It only has a 8-minute heat-up time and continuous steam that could last for 45 minutes.
Pros:
Could clean tough areas and dust thick surfaces
It could also deal with dirty stoves and oven, and probably carpets
The released steam is good enough to clean blotches with an ease
Has more uses in upholstery, and best suited when cleaning car couches
Cons:
The steam comes out with a lot of noise
Occupies larger area for storage
Conclusion
There are many steam cleaners out there in the market and choosing the best commercial steam cleaner can be difficult. Each has its unique functions, and some could be suited for more surfaces than the others. Just keep in mind the type of steam cleaner that you want to buy then identify if this certain steam cleaner can uphold its quality. Say no to hassle cleaning, and yes to steam cleaning!
Recommended Reading: