If you buy an item via links on this page, we may earn a commission. Our editorial content is not influenced by commissions. Read the full disclosure.
Our health is always at risks even in our own home. This Bissell Powerfresh Deluxe Steam Mop review is a guide to choosing the best steam mop to buy!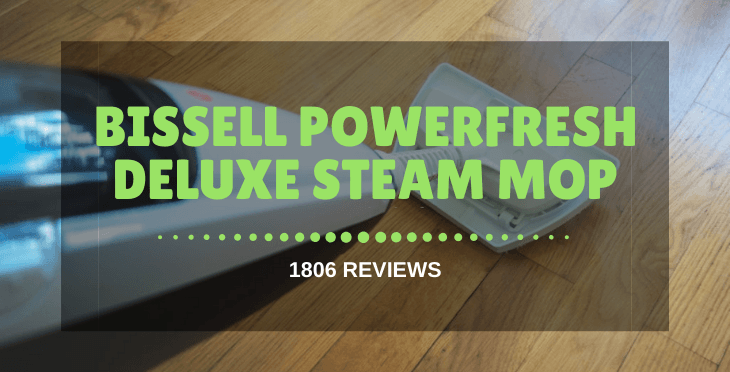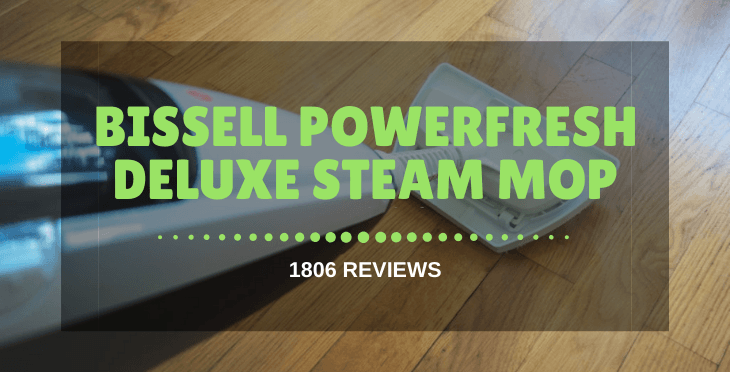 Now, more than ever is the time to be more cautious and safeguard our health from germs, bacteria, and viruses.
One of the breeding grounds of bacteria ad germs is the floor. And simply doing the conventional sweeping and mopping will not ultimately kill all the bacteria and viruses.
So, what can possibly aid you when cleaning?
Bissell Powerfresh Deluxe Steam Mop is an excellent floor cleaning tool that can disinfect your floors and eliminates 99.9% of harmful bacteria, as well as germs.
If you want to know why Bissell Powerfresh Deluxe Steam Mop 1806 is our choice, read on:
Bissell Powerfresh Deluxe Steam Mop Reviews
We know, heard, and were emailed about different steam mop options from our loyal readers and contributors, but we only pick certain products that we know we are confident to recommend.
Bissell 1806 Powerfresh Deluxe Steam Mop is among those highly-recommended products. For one it has an elegant appearance that many have mistaken it as an expensive mop. This, however, only falls in the mid-range category but is packed with the needed features to guarantee a bacteria- and germ-free floor.
This also comes in different versions; you can even buy a package with pads and disc kit included. Moreover, it performs efficiently and leaves your house smelling fresh.
What Customers Have To Say?
Believe it or not, a lot of people fell in love with Bissell Powerfresh Deluxe Steam Mop, as well as its Slim steam mop version. Many are happy that you can use eucalyptus and spring breeze water in it.
On top of that, first-time users also won't have a hard time using it as the design and instructions are pretty straightforward. They simply just made sure to include an easy-to-follow user guide.
This Deluxe version is perfect for getting rid of sticky and stubborn stains, as well as days-old molds and mildew.
Pros:
Kills 99.9% of germs and bacteria without damaging the flooring materials
With built-in spot boost brush suitable for stubborn and sticky stains and dirt
Power cord length is up to 25 feet
Easy to fill with water through its water tank and a measuring cup
Does not waste water during cleaning operations
Can be adjusted in low steam and high steam settings
Has a cleaning path width of 12 inches
With continuous steam settings
Water tank has 16 ounces capacity
Lightweight and easy to move around (6 pounds weight)
Cons:
Takes a while for the steam to work
There were reports of the tank leaking, so check this one carefully.
Bissell Powerfresh Deluxe Steam Mop Cleaning Applications
As we mentioned earlier, there are a lot of things to love about this tool. It can be used to clean the following floorings:
Sealed Hardwood
Some people advised not to use a steam mop on hardwood floors on the ground that it exposes the wood to extreme heat and moisture. This is true for unsealed hardwood, but using a steam mop on sealed hardwood floors is absolutely safe.
Since Bissell Powerfresh Deluxe Steam mop has a low steam setting, you can easily adjust the steam control so as not to cause damage to the wood like warping.
Ceramic
Using the traditional mop won't cut it when cleaning a ceramic floor. The main reason is that streaks and marks will be visible on the ceramic surface after cleaning.
With the stream coming from the Bissell Powerfresh steam mop 1806, streaks and marks are no longer a problem. Because of the hot temperature, water droplets on the surface will be dried up instantly, thus leaving a streak-free floor.
Granite
The good thing about using Bissell Powerfresh deluxe steam cleaner on the granite floor is that it has the ability to remove stick dirt and stains that cling to the surface without damaging it.
Granite is very sensitive to acid-base liquids, so aggressive cleaning solutions must be avoided. Fortunately, the heta form the steam mop can breakdown sticky stains so that they are now easier to clean.
Marble
Same with unsealed hardwood floors, marbles are also prone to damage when exposed to high heat steam. This is exactly why you must have the Bissell Powerfresh Deluxe steam mop on standby so that you can clean stains and dirt on your marble floor immediately.
One tip to remember when using a steam mop on the marble floor is to keep the moisture to a minimum and keep the steam at a low setting. Marble floors usually have a sealer on it, using high steam can break the seal, thus leaving the marble to further stains.
Recommended Reading: