If you buy an item via links on this page, we may earn a commission. Our editorial content is not influenced by commissions. Read the full disclosure.
Wondering what's the best vacuum for concrete floors? Scroll down and check our list before clicking that "add to cart" to get your next home cleaning item.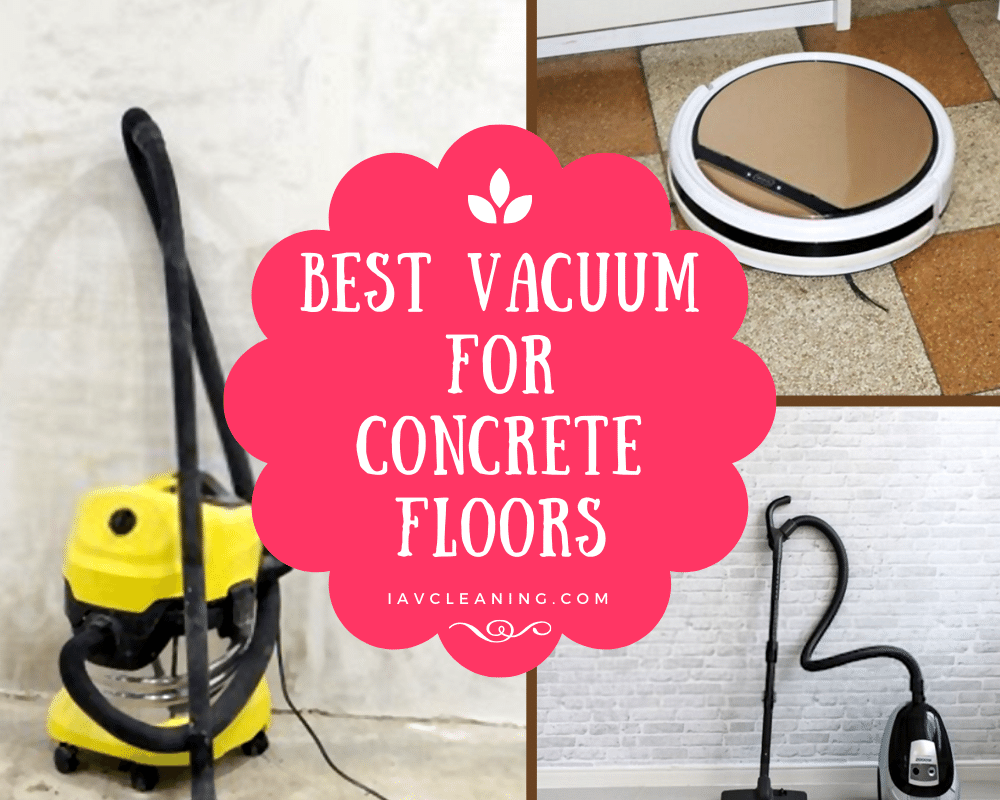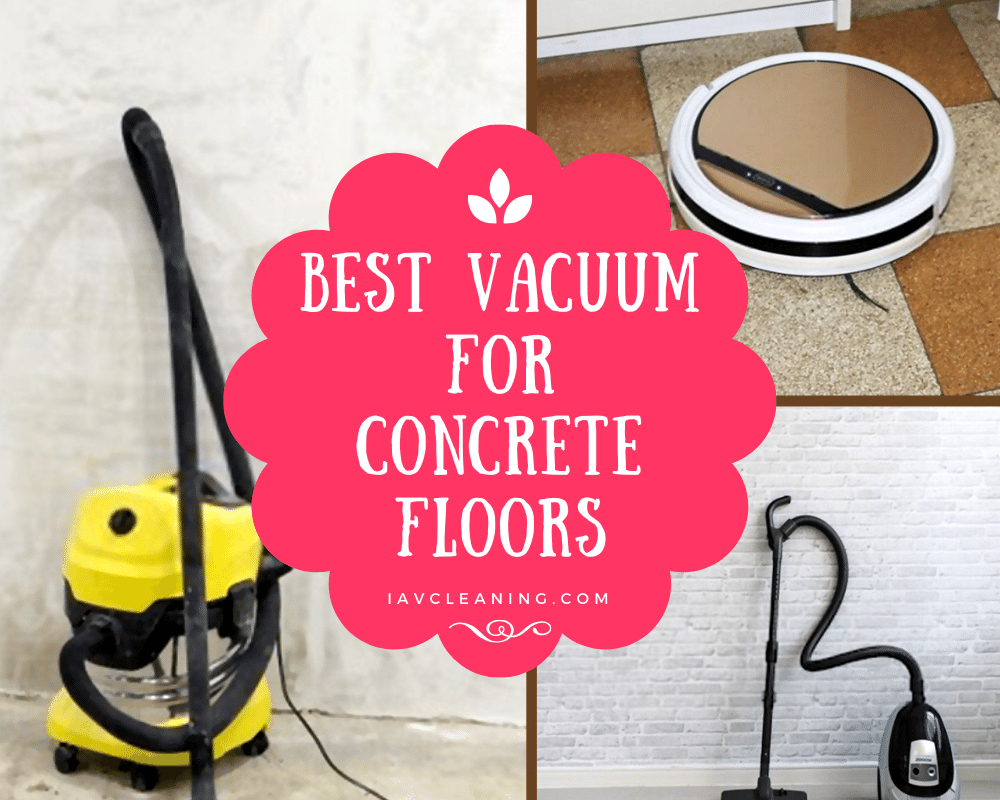 Concrete floors used to be that bland gray plate in the garage or the forgotten basement. But it has slowly gained the hearts of the modern generation with the new types of finishes you can do with concrete floors. To keep its natural beauty, you have to know the ways to clean a concrete floor, then you can choose the best vacuum for concrete floors to help make cleaning easier.
What Are The Best Ways To Clean Concrete Floors?
Each type of concrete requires a different type of cleaning. To know them better, we have made a list of these three (3) types of concrete floors and some suggestions on how to clean them.
1. Exterior Concrete Flooring
This is the most common type of flooring seen in both residential and commercial or public buildings because of its pleasing appearance and is relatively easy to maintain.
Tips:
You can either sweep or vacuum this type of concrete to remove debris.
Get a water hose to spray on the entire floor.
While it's still wet, apply a cleaner directly on the surface, use a long-handled wide brush (push broom) to scrub it, then rinse.
2. Polished Concrete
This type of concrete is made to be dust-proof, thus the shine that makes it relatively easy to clean. But not giving it the required attention might lose its shine so cleaning regularly is advised.
Tips:
It's best not to use a vacuum for this type of concrete to avoid scratches on the surface.
You can use a damp mop with a light neutral cleaner to remove dust while maintaining its natural shine.
In cases where the floor's shine might dull, you can just rebuff it with a polishing product.
3. Decorative Concrete
The Decorative type is simply an aesthetic enhancement to the flooring while still serving its function. With this, you wouldn't want to damage the beauty of this surface so it's best advised to use tools that can gently clean it.
Tips:
To remove dust and other debris, most people opt for dust mops to avoid fine dust particles that may penetrate small pores.
To clean the floor deeper; use a damp mop soaked in a mild cleaner, rinsing and wringing the mop regularly.
To prevent your floors from losing its shine, rebuff with a mild polishing product.
To protect from stains, reseal every three or four years.
Now that you can determine which type of concrete floor you have at home or in your building, you can now pick out the best vacuum for concrete floors to help lessen your effort in cleaning.
5 Best Vacuum for Concrete Floors in the Market in 2020
If you're thinking of buying the best vacuum for concrete floors but doesn't have any idea what to look for, then you can use our list below as a guide, and you will surely have enough information to make that purchase count.
1. Bisell CrossWave
The ultimate selling factor of the Crosswave is its ability to vacuum and wash the floor at the same time. You can also opt to purchase this item with multi-surface cleaners by the same brand, so you know it's compatible with the product.
Pros:
Has powerful suction
Has two built-in water tanks that stores the clean and dirty water separately
Lightweight, making it easy to operate and move.
With a steam mop feature that clean spillages
Has Smart Touch Control at the handle making it convenient to switch from different cleaning surfaces
Cons:
Can be very loud while in use
Not suitable for deep carpet cleaning
2. Hoover Linx Cordless Stick Vacuum Cleaner
Hoover Linx reintroduced the power-brush roll feature with their Wind Tunnel Technology that lifts dust from all over the surface. This product is also built with an 18-volt lithium battery which takes 3 hours to fully charge; it provides about 15 minutes of work time thereafter. There's also a battery fuel gauge that would tell you it's remaining battery life.
Pros:
No trouble getting tangled up in its cord in whichever direction
Extremely lightweight (12lbs) making it very easy to move
With adjustable suction power
Has edge-cleaning bristles for hard-to-reach corners
Cons:
Not suitable for commercial use due to its small dust cup that requires frequent emptying
Has poor battery quality according to some users
Could scratch floors
3. Oreck Commercial Upright Vacuum
With this vacuum's upright design, it's very easy to maneuver around especially for commercial use like restaurants. But because this product is also lightweight, it's also recommended for house use, despite being a professional-grade vacuum.
Pros:
With high-powered, balanced brush roll with double-helix brushes
Has automatic floor adjustments to easily move between carpets and concrete surfaces
Easy access to Helping Hand handle (on/off switch)
Can fold flat to reach under your furniture.
Cons:
Model's wheels are not entirely smooth making it more challenging to maneuver
Create loud noises when in use.
Comes with disposable dust bags (not economical)
4. iRobot Roomba 960 – Robot Vacuum
The iRobot Roomba is considered as one of the premium items when it comes to vacuum cleaners; it has the most promising feature of Wi-Fi connectivity that enables you to connect the robot vacuum with your mobile phone making it easier to control.
Pros:
Has a docking station for the robot vacuum to automatically charge itself.
Robot starts cleaning where it left off after charging
Because of its circular and cordless design, this product is versatile enough to clean almost any surface.
With power boost mode enabling it to clean even a heavily-soiled area
Can be paired the Roomba 960 to voice-activated devices like Alexa or Google Assistant.
Has a very efficient 3-stage cleaning system
Cons:
Expensive
Not suitable for deep carpet cleaning
Dirt tank capacity is small that requires frequent emptying.
5. Koios Robot Vacuum
This item may be one of the best options for people who have glossy decorative concrete flooring and do not have the luxury of time to clean it. This robot vacuum works on battery (2600mAH) that allows it to work and operate independently for up to 120 minutes (2 hours).
Pros:
Has multiple cleaning modes.
2.95 inches tall easier to clean under your furniture and other hard-to-reach areas
Equipped with HEPA filtration system that traps allergens, pollens, and other germs
Cons:
Hard to get replacements for filter if it gets broken.
Manual is not user-friendly
A set of batteries will only last a week with daily use of the remote.
Conclusion
If your objective is to find the most suitable vacuum for your needs, we hope this list has been of great help to you.
For us, the top choice would be the Bisell CrossWave because of its ability to sweep, mop, and wash almost any surface at the same time. While Bisell CrossWave may not be as smart and as high-technology as the other robot vacuums, it fulfills its purpose efficiently at a very reasonable price.
Make sure to remember that in choosing the best vacuum for concrete floors,you have to know the features that may help you in your goal and how efficiently it could do the job for you.
Recommended Reading: