If you buy an item via links on this page, we may earn a commission. Our editorial content is not influenced by commissions. Read the full disclosure.
Learn how to sweep up, lift, and gather all pet hairs with just one stroke – quick, efficient and effortless, using these brooms.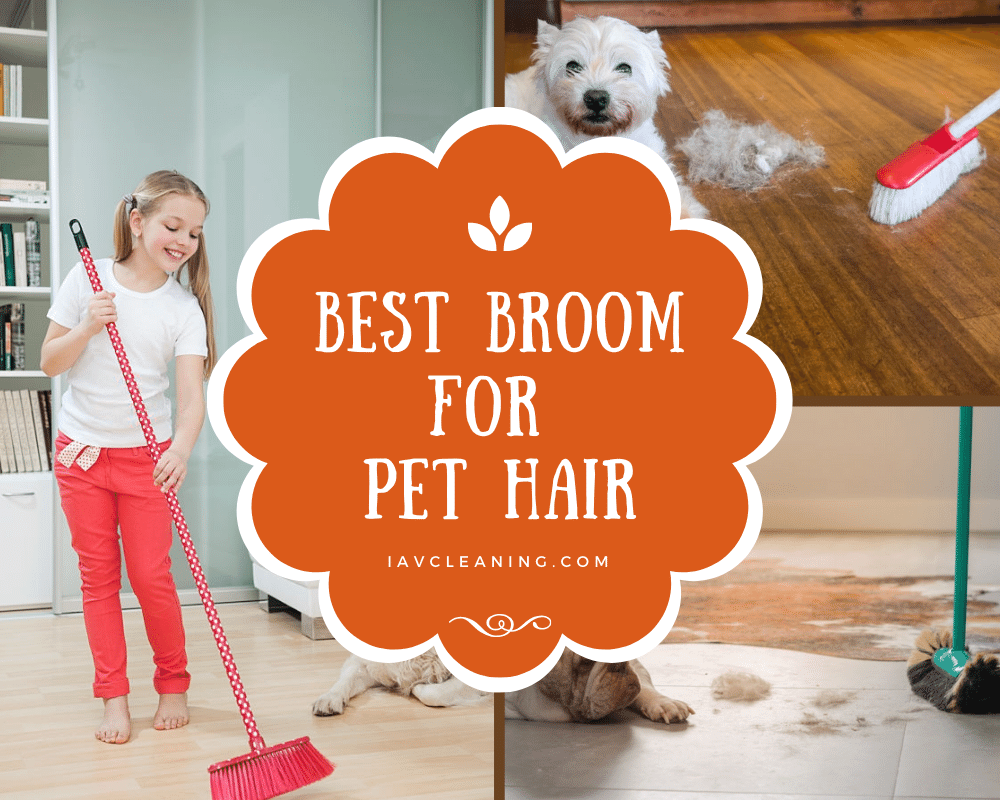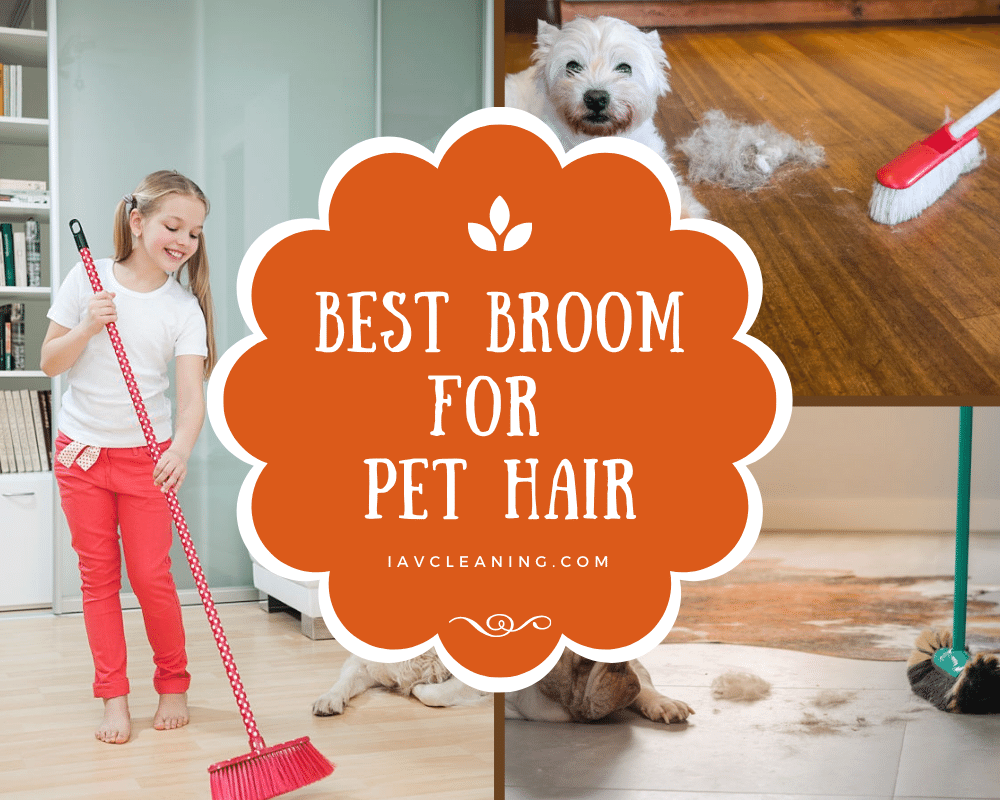 We all love our pets. However, the problem of shedding pet hair is just one of the inconveniences a pet owner must fully accept. It is often the first matter you have to consider if you decide to adopt a pet.
With every great pet, comes great responsibility. As a pet lover, you know how annoying and tiresome it is to keep up and try to clean pet hairs. These hairs act like a magnet and can be found anywhere in the house, such as furniture, carpets, and even our cars. It can also attach to our sweaters and pants, making us stop wearing anything black.
Traditional brooms you use to sweep dust off are useless to these hairs. Fortunate enough, there are best brooms for pet hair available in the market.
Pet hair Brooms vs Traditional Brooms
More often than not, in cleaning up pet hairs, you make use of brooms you are usually stocked with – the traditional brooms. These traditional brooms are usually used in sweeping off dust, hairs, papers, and leaves around the house.
However, using a traditional broom on pet hair is impractical. No matter how many times you try to sweep pet hair, it will still manage to slip through traditional brooms. Regardless if you go back and forth many times, you still can't sweep all the pet hairs.
This is where pet hair brooms come in. These brooms, specifically designed for pet hair, can sweep all pet hairs with just one stroke. Pet hair brooms can put the traditional brooms into shame. If you've got yourself a furry friend, you're going to need the best broom for pet hair.
Advantages of using pet hair Broom
Using a broom that is perfectly designed for pet hairs, you won't be needing to exert too much effort in cleaning up the hairs. With this type of broom, you are ensured that it pulls away from the pet hair as you sweep. Also, it does not make the hair float back into the air as most traditional brooms do.
Other benefit includes:
Won't leave scratches or damage your furniture, carpets, or couch in any way
Able to reach all the places your pet has left hair at all times
Offers a quick, effortless, and efficient way of cleaning up pet hairs
The Top 5 Best Broom for Pet Hair – The Perfect Solution
Here are some of the best brooms for pet hair available in the market. These will surely gather the pet hairs and leave your floor, carpets, and couch flawlessly clean.
1. Evriholder FURemover Pet Hair Broom
This broom has earned itself a name for having been around for a long time after its initial release. It was released eight years ago without any complaints from its ample users. This broom is made up of 100% natural rubber which can quickly gather and remove pet hair on different surfaces. It comes with a flexible bristle that is a perfect choice for hair removal on carpets, hardwood, and linoleum without leaving any scratches on the surface.
Pros:
The pure rubber bristles can be used on multiple surfaces such as hardwood, carpets, and linoleum.
Can clean up the water and spills on floors or windows using its multi-purpose rubber squeegee
The extendable handles extend 36 inches up to 60 inches.
Easy to clean, easy to store, and easy to use
Cons:
Bristles sometimes fly hair on the air instead of gathering them up.
2. LandHope Rubber Pet Hair Broom
If you desire a broom that is lightweight yet durable, this broom is suitable for you. Its rubber bristle can gather up hair, dust, and paper effortlessly. The rubber bristles act like hair magnets, and it never sends any hair flying on the air. This is best use on rugs and carpets. It has an adjustable handle, which means both kids and adults can use it. It has an attached squeegee that is perfect for cleaning water spills and windows.
Pros:
Best for optimum pet hair removal and does not send hair flying on the air
Can clean dust and paper as well, not only for pet hair
Adjustable handles and lightweight even kids can use
Functional both indoors and outdoors.
Cons:
The head sometimes comes off.
3. TreeLen Broom and Dustpan for Pet Hair Removal
TreeLen offers a quality set of 52-inch broom and dustpan. This broom is made up of high-quality plastics, both efficient and durable. This broom has a flexible tip for ease and convenience, enabling it to reach every corner of the house. The bristle is a perfect match to clean up dust, pet hair, and human hair in one stroke. It can also effortlessly be stored since the broom is attachable to the dustpan, in a compact and standing position. Also, the dustpan has a built-in tooth /scraper which helps remove pet and human hair attached to the broom with ease.
Pros:
Sturdy and high-quality broom and dustpan set
Flexible tip reaching every corner
Built-in teeth or scraper
Easy to store – in an upright position
Cons:
4. O-cedar Smooth Pet Hair Broom
O-cedar is one of the reputable companies of cleaning tools, and they've stepped up the game with this broom too. This broom is ideal in cleaning up pet hair on soft couch and carpets. It is proven to be suitable to use on soft surfaces. O-cedar offers very soft bristles you won't even need to worry damaging your surface in any way.
Pros:
Extra soft bristles perfect for soft surfaces
Excellent for sweeping of dust particles
Cons:
Too soft bristles for rigorous cleaning
Quite expensive
5. Fox Trot Fur Buster Pet Hair Broom
This broom is specialized for cleaning up pet hair but is proven to be useful for other things as well. It can be used on any surface, let it be dry or wet, indoor or outdoor, anything is possible with this broom. Numerous soft bristles are intact to ensure all pet hairs are entirely removed and it is guaranteed not to leave any marks or scratches on the surface. The extendable handles extend from 30-inches to 50-inches, suitable for kids and adults.
Pros:
Functional on all types of surfaces
Sturdy
Cons:
Breakable if not properly used
Conclusion
Out of all the brooms mentioned above are considered to be the best broom for pet hair. It's entirely up to your prerogative on which of these brooms you deemed fit for your cleaning purposes.
Recommended Reading: