If you buy an item via links on this page, we may earn a commission. Our editorial content is not influenced by commissions. Read the full disclosure.
Do you want to keep your hardwood floors clean, flawless, and in good condition without spending too much? Here's our guide about the best manual sweepers for your hardwood floors.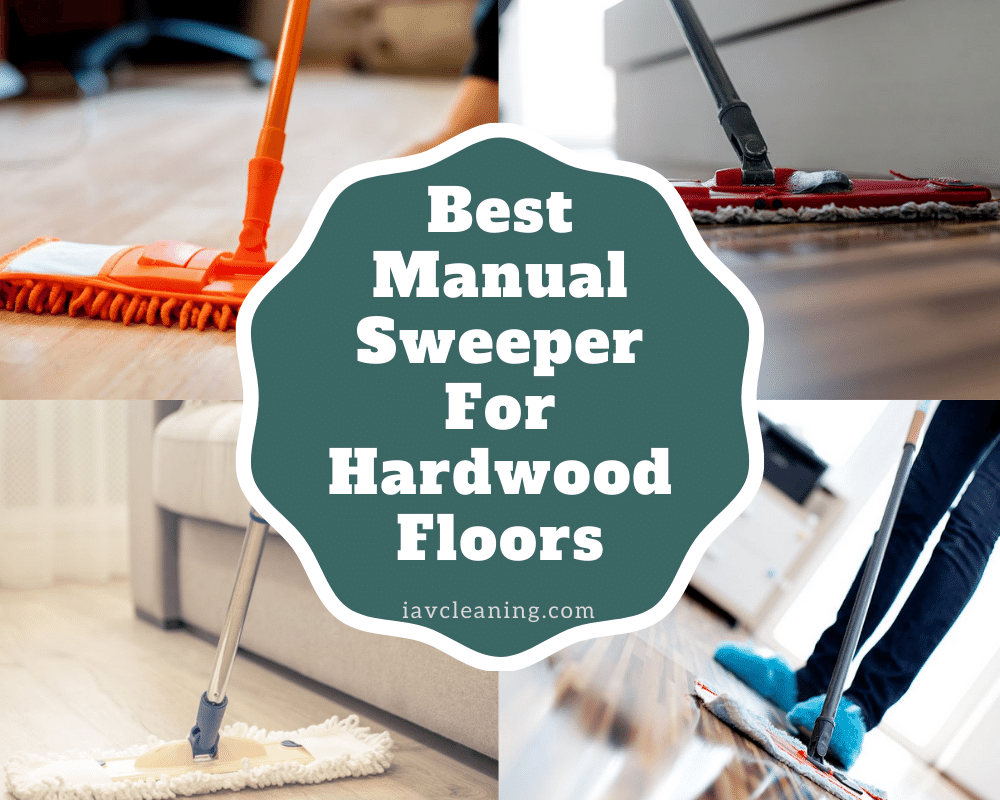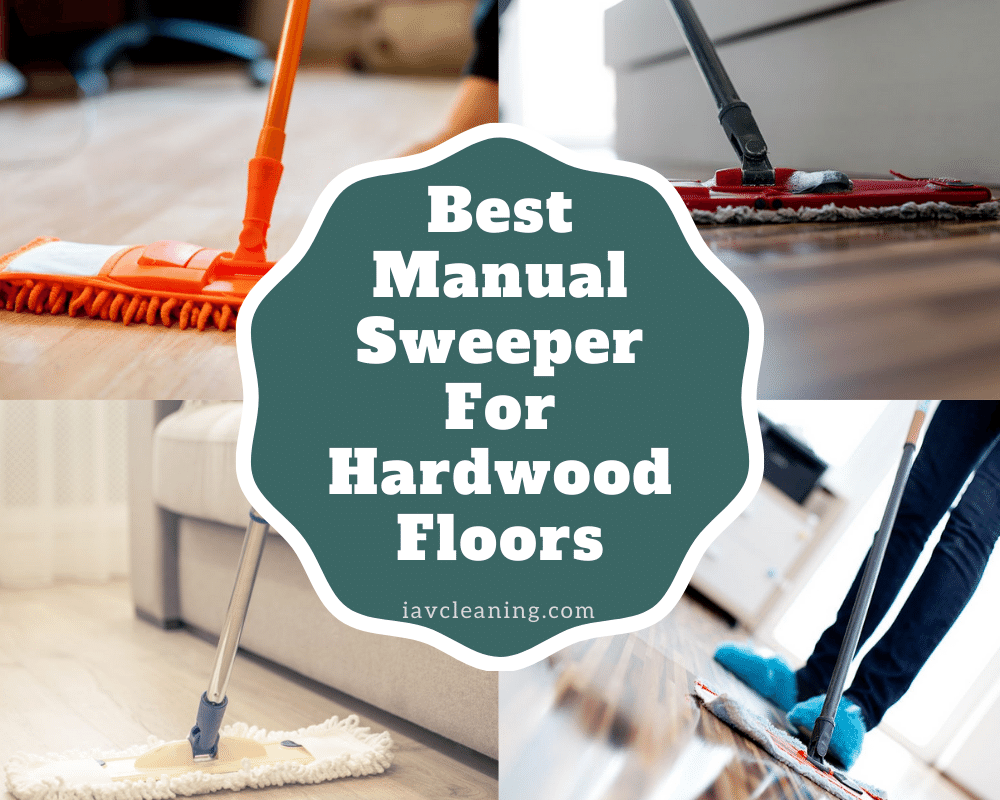 Hardwood floors are more practical compared to carpeted floors. Why? Hardwood floors last longer because of their durability. It is perfect for spaces with heavy foot traffic such as offices and lobbies, and the aesthetics of the area are not compromised with its intricate and unique patterns. Furthermore, the maintenance of hardwood floors is relatively cheaper compared to carpet maintenance, and to make it more cost-efficient, the use of manual sweepers must be considered. Which one is the best manual sweeper for your hardwood floors?
Let's find out with this quick review.
Criteria For Choosing Sweeper For Hardwood Floors
You can make your hardwood floors as shiny as pearl by not spending too much on electrical vacuum cleaners. These machines cost so much more compared to manual sweepers and require electricity, another additional cost, to operate. The maintenance fee is also high that you need to hire a technician to fix the broken vacuum cleaner.
When all else fails, manual sweepers prevail. These manual sweepers are so easy to use and very convenient. You don't need electricity to use it. It is also cheap and easy to maintain. Plus, cleaning with manual sweepers require you to move and make your heartbeat raise and blood pumping. An instant exercise!
But before purchasing a manual sweeper for your hardwood floors, you need to consider the following features to get the most out of your money.
· Quality
Manual sweepers absorb a lot of pressure when in use. The quality of the manual sweeper will determine its longevity and serviceability. It is important to consider a manual sweeper made from high-quality products to ensure that it will last longer and can be used several times without compromising its performance.
· Handle Length
Handle length is sometimes neglected when it comes to buying a manual sweeper for hardwood floors. However, it is very important to consider this, to have comfort when using the product. This also determines the reachability of your manual sweeper. Some manual sweepers have an adjustable handle so you can change the length of the handle based on your height.
· Maneuverability
Easy-to-maneuver manual sweepers give a more productive performance because it will be able to clean a larger area. Some of the things we need to consider when we think of maneuverability of the manual sweepers are as follows:
1. Size – the size of a manual sweeper is an important quality because it will determine the extent of the cleaning area your manual sweeper can provide. However, a bigger size manual sweeper is harder to control and move, because it will require more work. Besides, the size can also affect the way of storing your manual sweeper.
2. Weight – the weight plays a big role when buying a manual sweeper. Heavy manual sweepers will require a lot of energy when being used, so the productivity of the one using it might decrease. In this case, the weight must be considered.
· Budget
The price always plays a huge part when it comes to purchasing an item. There are cheap manual sweepers, but the quality is so poor. There are high-quality manual sweepers, but the cost is too expensive. It is a matter of perspective that will depend on the budget.
The Best Manual Sweeper for Hardwood Floors
Now that you know the different criteria to consider when buying, it's time for our review. Listed below are the 5 best manual sweepers for hardwood floors.
1. LINKYO Microfiber Hardwood Floor Mop
You want a manual sweeper that would last a long time, try the LINKYO Microfiber Floor Mop. With its lightweight materials and simple design, your cleaning experience will never be the same. The handle is made from stainless steel and has a metal mop frame that makes the mop more rigid. The swivel head can rotate 360 degrees, giving you the full mop experience.
Best features:
Made from durable materials
Adjustable handle extends up to 70"
360 degrees rotating head for easy maneuvering
Reversible microfiber cloths
2. O-Cedar Dual-Action Microfiber Flip Mop with Telescopic Handle
The main feature of this amazing flip mop is its double-sided Microfiber and Chenille, perfect for cleaning wet and dry areas. Deep floor cleaning is just one mop away, thanks to its dual action flip mop with microfiber side. And with its durable quality, you can wash the microfiber flip mop up to 100 times.
Best features:
Lightweight (1.8 pounds)
Reusable and washable microfiber flip mop
Revolving mop head (360 degrees)
Perfect for sweeping dust and pet hairs
3. Microfiber Mop Floor Cleaning System
The cleanliness of your home will be made easy with this multifunctional microfiber mop that can be used for both wet and dry cleaning. This reusable microfiber mop will not only save you money but will save your time sweeping because of its unique loop fibers. The microfiber pads offer a great deal of effectiveness as they can be washed my machine over a hundred times.
Best features:
Versatile – can be used in any floor type, wet and dry surfaces.
Lightweight and rotatable mop head (360 degrees)
Environment-friendly – microfiber can be washed over 100 times
The finest quality – durable handle has a longer length compared to other products.
4. Sladust All Wool Dust Mop with Replacement Head
Sladust All Wool Dust Mop offers the highest quality for cleaning hardwood floors with their finest dust mops created. Handmade in Woodstock, Vermont, this traditional, pure, wool, dry mop has swift swivel action that provides great maneuverability for better cleaning experience.
Best features:
Easy maintenance
Metal telescoping handle extendable up to 59"
Eco-friendly (using only natural materials)
Great in picking up pet hairs
5. AmazonBasics 24 Inch Aluminum Microfiber Dust Mop
Microfiber Dust Mop Frameset will make your hardwood floors cleaning a breeze. With its telescoping handle, easy-gliding rectangular-shaped frame, and lightweight feature, moving around and under some furniture will be effortless. Perfect for home or office, the AmazonBasics Microfiber Dust Mop frame is a brilliant substitute for loud vacuum cleaners.
Best features:
Adjustable lightweight aluminum telescopic handle up to 60".
Easy pad attachment and removal by a hook-and-loop fastener system
Effective in large particle removal
Made from durable aluminum.
Conclusion
Many manual sweepers will work on hardwood floors. Each one has its unique feature that will be suited for your needs. But based on our review, LINKYO Microfiber Hardwood Floor Mop is the best because it ticked all of the criteria that are very critical in choosing your manual sweeper.
We hope that this review helps you to buy the perfect manual sweeper for your place. Now let's go sweep your hardwood floors.
Recommended Reading: