If you buy an item via links on this page, we may earn a commission. Our editorial content is not influenced by commissions. Read the full disclosure.
What's the best handheld steam cleaner for grout? Check out our list of products to know which ones we handpicked just for you.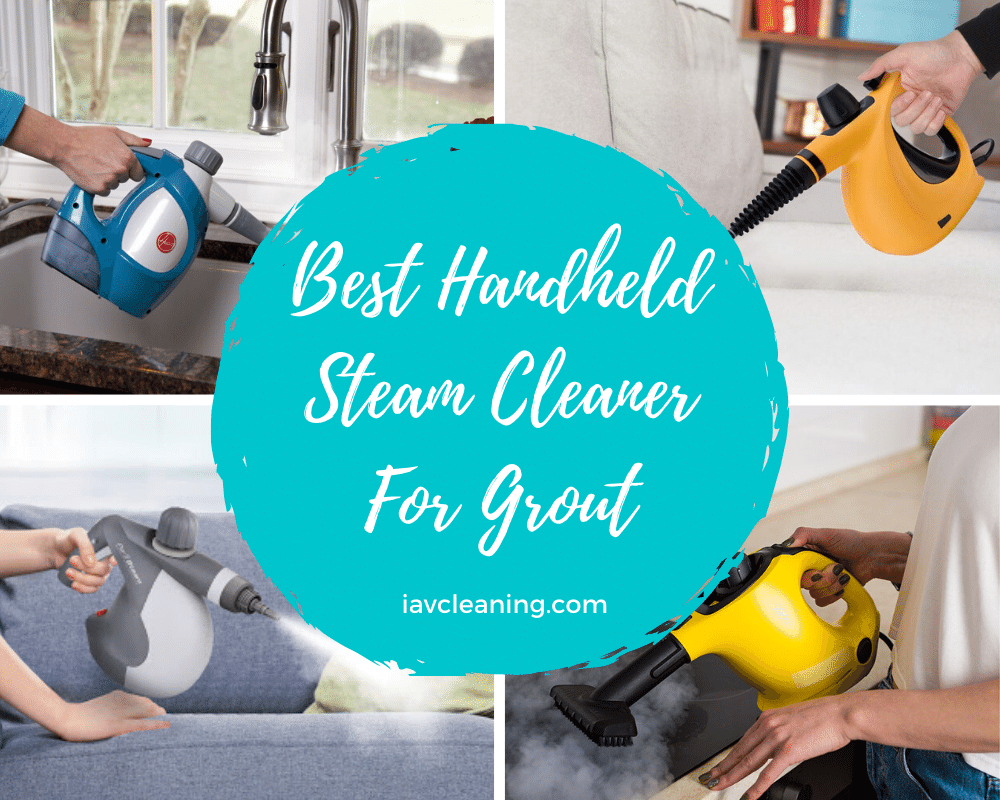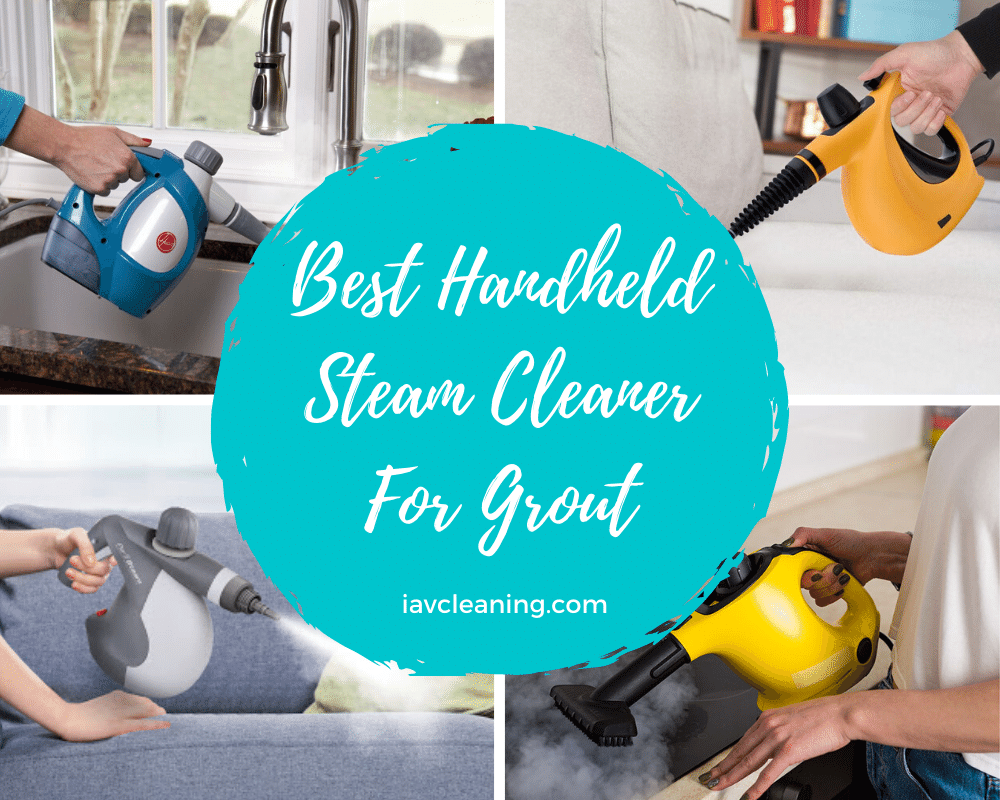 A lot of people complain about sticky grime and bacteria on their floor tiles. While scrubbing can get out the loose dirt, sometimes that's just not enough. Sometimes you'll need the help of heat and steam to loosen up the dirt. Here's our take on the 5 best handheld steam cleaners for grout.
What is a Steam Cleaner and How Do You Use It?
Not everyone is familiar with a steam cleaner because most people are more familiar with the more traditional methods of cleaning. However, steam cleaners are getting a lot more traction these days because of effectiveness. Just to give you an idea, a steam cleaner makes use of very hot moisture to make dirt easier to clean. In fact, the heat is able to loosen up even other types of unwanted substances like mold, mildew, and oil stains.
So how do you use a steam cleaner anyway? Well, steam cleaners can be used for both indoor and outdoor uses. First of all, it can be used for cleaning dirt off floors, walls, and other pieces of furniture. Aside from indoors, it can also be used to clean patios, patio furniture, and other outdoor objects. To use it, you simply heat up the water inside the steam cleaner and press the steam button. From there, you simply need to spray out the steam on the places that need cleaning. It's actually a very simple contraption to use– much like a vacuum cleaner. Do take note that since you'll emit steam, the areas that you clean will be damp.
Handheld Steam Cleaner for Grout Buying Guide
Now that you know how a steam cleaner works, it's now time to talk more about the 5 products that we'd like to introduce. Before that though, let's discuss the buying guide first. The purpose of the buying guide is to help you narrow down your choices to just one product that's suited for your own personal needs. Before you pick your steam cleaner, take note of these factors:
Temperature Capacity
The first thing that you have to take into consideration is the temperature capacity. The temperature capacity refers to how hot the steamer can heat up the water. This differs from machine to machine as there are steamers that can heat up to 200 degrees Fahrenheit while there are those that can heat up to 250 degrees Fahrenheit or even higher. We recommend that you get a steamer that can heat up water to at least 212 degrees Fahrenheit.
Weight
Weight is pretty important to take into consideration because it determines whether you'll have a hard time carrying your steamer or not. This really depends on how strong you are. Since most steamers weigh 2.5 pounds to 5 pounds, you shouldn't have any trouble lifting the steamer. Do take note though, that it is heavier when you put water inside.
Tank Size
The tank size will determine how much water your steamer can hold inside. The more water the steam cleaner can hold, the longer you can use it without having to refill it again. You can find steam cleaners that have tanks ranging from 6 to 12 ounces depending on the size of the steamer you buy. If you have a lot of areas to cover, then we recommend that you buy the bigger sized ones. If not, the smaller sized ones will do.
Coverage
Coverage refers to how far your cleaner can spray steam. This actually depends on the length of your chord. Chords vary in length depending on the brand that you buy. There are some steamers with chords reaching around 9 feet while there are others that are 15 feet in length. This factor really depends on how far you need your steamer to reach.
Accessories
Steam cleaners come with a smorgasbord of accessories that you can try out. They have accessories like rotating nozzles, extending nozzles, brush nozzles, and many more. When you're taking into consideration the accessories that you'll get, you need to get the ones that are suitable for your cleaning activities. For instance, you can use the brush nozzle plus the steam to fully take out sticky grime from toilet floors and such.
Heating Time
There is a short period of time wherein you need to allow the steamer to heat up the water in the tank. Some take pretty long to heat up while others require a shorter heating time. If you're impatient, you might want to get the cleaner with a heating time of around half a minute to a minute. If you don't mind waiting a bit, most cleaners have a heating time of around 2 or 3 minutes.
Price and Brand
Since you'll be buying a home appliance, you can't just stick with any cheap brand because of the harms a cheap brand can bring. For instance, some cheap brands may overheat or short circuit because of the low quality materials used for manufacturing. That's why we always recommend that you get only well-known brands when you buy your steam cleaner. That's also why our list has nothing but only reputable brands and product variants that have an established name in the market.
After going through the buying guide, it's easier to understand how to choose the best handheld steam cleaner for grout. With that, we can move on to the 5 product reviews.
5 Best Handheld Steam Cleaner For Grout Reviews
1. PurSteam Chemical-Free Handheld Steam Cleaner
The PurStream Chemical-Free Handheld Steam Cleaner is a very balanced and well-rounded steam cleaner with the features up to standard based on our buying guide. It is lightweight, durable, and very functional. It has pretty good reach, a decent tank capacity, and a pretty good set of accessories to choose from.
Pros
9.8-foot cord for long reach
20 minutes of continuous cleaning time
10-ounce tank
9 accessories to choose from
1000 watts of power
Easy stem push-button function
Cons
Requires 3 minutes of heating up
Leaves a lot of moisture
2. MLMLANT Handheld Steam Cleaner
This is also a pretty reliable steam cleaner. It can be used for many purposes such as cleaning tiles, granite, wool, and other things that can't be wet. The great thing about this steam cleaner is that it doesn't leave that much moisture on objects, making it one of the most convenient to use on this list.
Pros
Good for cleaning a lot of objects and materials
Doesn't leave much moisture
9.8-foot reach
Portable design
Cons
Takes 4 minutes to heat
Small tank capacity
3. Comforday Multi-Purpose Steam Cleaner
If you're looking for power, then the Comforday Multi-Purpose Steam Cleaner may be your best bet. This one has 1050 watts of power and has a temperature capacity of up to 270 degrees Fahrenheit. With that kind of heating power, you're sure to be able to get rid of your unwanted grime and debris.
Pros
Comes with an extended nozzle, brush, and other accessories
Has a very secure safety lock
1050 Watts of power
Heats up to 270 degrees Fahrenheit
Lightweight and compact size
Cons
Small tank capacity
Not as durable as other variants
4. Wagner Spraytech Steam Cleaner
For heavy-duty jobs, we'd say the Wagner Spraytech Steam Cleaner is a very good candidate. First of all, this one was designed to have a reach much further than other handheld steamers. Also, you'll find that the tank capacity is much bigger than other steam cleaners. To be specific, this one has a tank capacity of up to 48 ounces allowing you to use it for longer periods of time.
Pros
Has a temperature capacity of up to 212 degrees Fahrenheit
Comes with a 48-ounce tank capacity
Can be used for 45 minutes continuously
Efficient indicator light
Cons
Heavy and a bit hard to use
Cannot be carried like smaller steamers
Longer heating times compared to others on the list
5. BISSELL Steam Shot Deluxe
Bissell is definitely a well-known brand in the home appliance industry so it's not really a surprise that their Steam Shot Deluxe is most likely a favorite among most homeowners. After all, it has a good power rating, a very good reach, and a fast warm up time. Specifically, it has a 1000 watt power rating with a cord length of 20 feet. This allows you to reach far places in your house. Best of all, it only takes 30 seconds to heat up.
Pros
1000 watt power
20 feet cord
30 second heating time
Cons
Small tank capacity of 6.6 ounce
Not that sturdy
Conclusion
With the 5 choices we've given above, you can now choose the best handheld steam cleaner for grout. So which one do you think is the best out of the best? For us, we'd most likely pick the PurSteam Chemical-Free Handheld Steam Cleaner because of its balanced set of features. It has a pretty good tank capacity, high power rating, and easy to use function. It does also have standard reach and a lot of accessories to choose from. Sure, it may take a while to heat the water up but 3 minutes isn't so bad.
Recommended Reading: