If you buy an item via links on this page, we may earn a commission. Our editorial content is not influenced by commissions. Read the full disclosure.
Looking for the best car carpet cleaner for your automobile? We have the list that can help you find what you're looking for.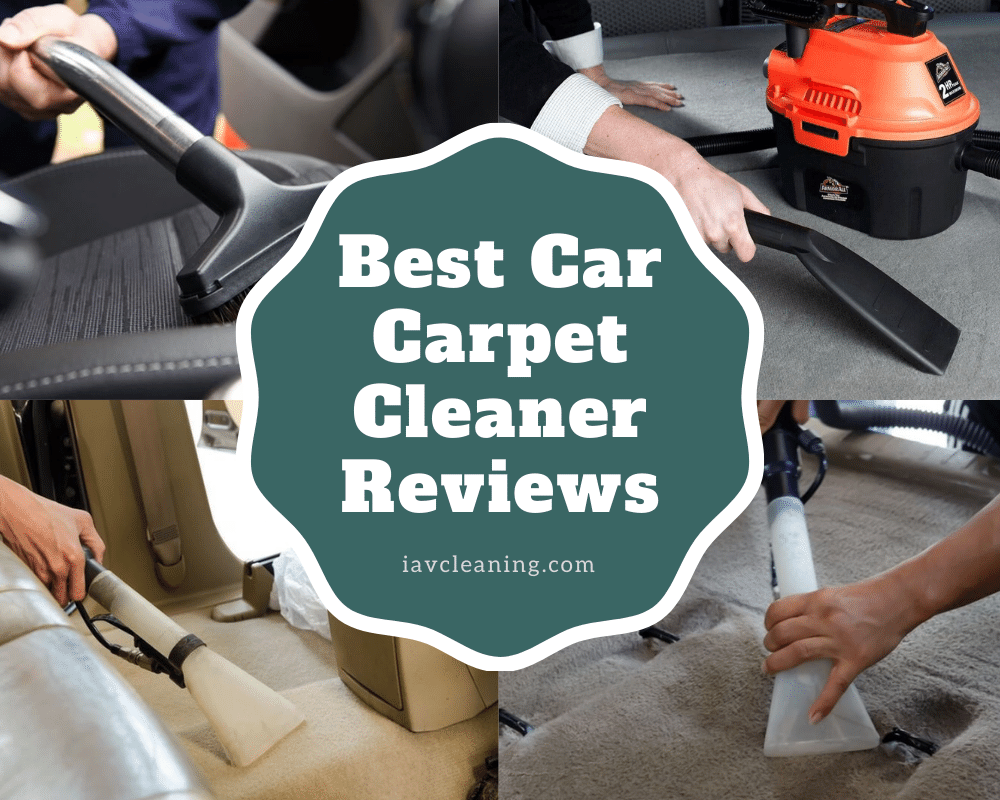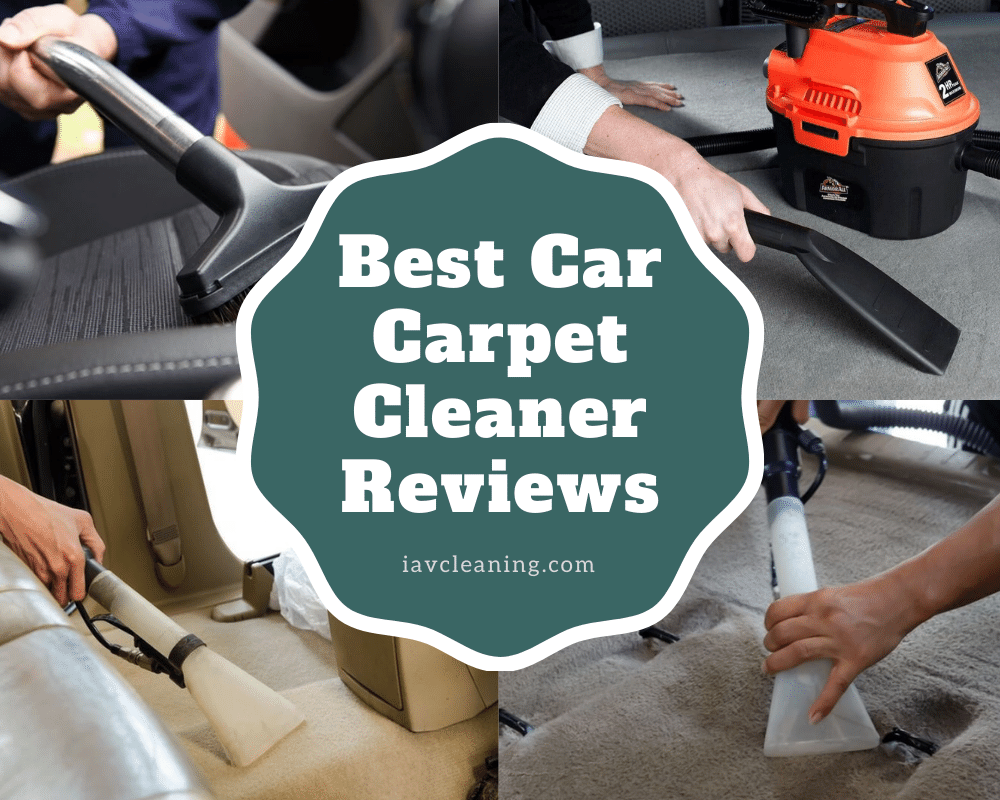 Car carpets and upholstery are pretty hard to clean because they easily contract stains. While the loose dirt and debris can be removed through ordinary vacuuming, stains from grime or food won't come off that easily. That's why you need the best carpet cleaner for your car.
What is Car Carpet Cleaner and Why Do You Need It?
In simple terms, a car carpet cleaner is a vacuum cleaner that's specially made for car carpets. They're quite similar to the ordinary vacuum cleaners in shape and general function but they tend to be stronger than ordinary vacuum cleaners. Because of that, they can be used for deep cleaning. This can help take the stains out of the deeper parts of the carpet.
Most people take carpets for granted simply because they look clean on the outside. What most people don't know is that carpets, in general, tend to be 4000 times dirtier than a toilet bowl. This is especially true for car carpets since different people who sit in your car will step on the carpets. The worst part is that you don't know what they just stepped on before entering your car. So you can just imagine what kind of stains and dirt they'd leave on it. For that very reason, you need to have a car carpet cleaner ready to take away those unwanted substances.
What to Look For in a Car Carpet Cleaner
If you're interested in buying a car carpet cleaner, you need to consider a few things before you make your choice. Take note that there is no best carpet cleaner out there. The best one will be the one that can suit all your needs and preferences. In order to choose the best one, you need to align the features of your choice with your own needs.
Later on, I will give you a list of 5 of what I think are the best carpet cleaners in the market today based on specs and features. With the help of this buying guide, you can determine which of the 5 is the best one for your needs. Always remember that you need to take into consideration whether the features suit you or not. Don't buy one because it has the most features or because it's the most well-marketed product.
Use these criteria as your guide when shopping for a good carpet cleaner. Here are the criteria you should follow:
Tank Size
The first thing you have to take into consideration is the tank size. The tank size is important because it determines how many times you'll have to refill your vacuum with your chosen solution. Obviously, the ones with a bigger tank size don't need constant refilling as compared to the ones with a smaller tank size. However, I'm not saying that you need to get the one with a really big tank size.
I recommend that you get the vacuum that has a tank size relative to the size of your car carpet. If your car carpet and upholstery isn't that big, then a light and small tank size should be good enough. A 14-pound vacuum will have a tank size that's good enough for an average-sized car carpet. This will usually have a tank capacity of around 96 ounces. You can use that figure as your guideline.
Length of Hose
Another thing that you may want to take into consideration is the length of the hose. Home vacuums will have hoses that are extremely long while there are others that aren't that long. I'd recommend that you get the vacuum with a hose length that you're comfortable with.
If you're cleaning the upholstery of your car or van, you'll need to stretch a bit in order to reach hard-to-reach areas. For that, you'll need a long hose– like a 30-foot hose. If you're not cleaning such a big sized car upholstery or if your carpet can be removed, you can stick with the standard 20-foot hose.
Power Rating
In order to know the overall strength of the vacuum, you need to take into consideration the power rating. The power rating is measured in amps so the higher the amps, the higher the power rating.
Most small vacuums that are designed for cleaning cars have a power rating of around 3 amps depending on the brand. There are also those that are stronger and have a power rating of about 5 amps. Again, this depends on the brand. There are even those that go the extra mile and reach up to 10 amps in power.
So which one do you choose? I'd say it depends on your needs. You need to first understand the nature of the stains in your carpet or upholstery. How hard are they to clean? If they aren't that hard to clean, you may not need such a powerful vacuum.
The standard 3 amp vacuum will usually do. But for heavy-duty jobs like stubborn stains on van upholstery and carpets, you may need something more powerful. If you want to consider the power of the vacuum, you must first consider the stains or dirt you're dealing with.
Accessories Included
Lastly, you may also want to take into consideration some of the accessories included in the package. You may want to consider accessories such as handles, nozzles, and even brushes to make the cleaning much easier. This will really depend on your needs and wants with regard to your cleaning.
Top 5 Best Car Carpet Cleaner Reviews
1.Bissell SpotClean PetPro Carpet Cleaner
When it comes to carpet cleaners, Bissell is surely a name that you can find in most reviews. In fact, I quite love Bissell products because of the quality features that they provide. With that in mind, I'd like to start with a Bissell product. This is the Bissell SpotClean PetPro Carpet Cleaner.
If you're a person who has pets and you often take them for car rides, you've probably experienced having a lot of hair on your seats and on the car floor. Eventually, you're going to need to clean up all that dog hair or cat fur.
For this type of job, I highly recommend the PetPro. What I love most about the PetPro is that its features specialize in taking care of pet hair, pet stains, and waste. That's because the PetPro has a very powerful built-in suction and strong brushing feature. The combination of these features allows the cleaner to effectively clean after your pets.
So far, I've tried the PetPro on the upholstery of my van as well as car rugs. It works rather efficiently compared to other cleaners when we talk about cleaning up after animals.
Pros
Has features that cater specifically to pet owners
Can effectively take away stains that come from pets such as liquid and solid waste
Bissell donates 10 dollars for every pet product bought
Has a large tank
Power rating of 5.7 amps
22 foot hose
Cons
Not very easy to maneuver
2. Rug Doctor 5.5 Carpet Cleaner
I find this one of the easiest to use because it's really lightweight and comes with a slick set of wheels. I can easily carry this vacuum cleaner from one side of the car to the other or I can just glide it around.
Since I have kids, our family van's car rug usually have those food or beverage stains that come from what my kids were eating or drinking when they were in the car. For those stains, this carpet cleaner works really well.
I noticed that it even has the ability to deep clean highly textured or layered carpets due to strong suction. You can probably clean those very stubborn stains that come from coffee, sauce, red wine, soda, or nacho cheese using this cleaner. It also seems to be able to take away bad odor that comes from grime.
Pros
Easy to carry and easy to glide around
Can remove food or drink stains
Comes with strong scrubbing feature with rotating brushes
Ergonomic design
Cons
5.5 foot hose is quite short compared to others
Does not specialize in removing odor from the stains
3. Bissell Spotclean Proheat Portable Carpet Cleaner
When cleaning those extremely stubborn stains, you may sometimes need the aid of some warm water to make cleaning easier. Of course, a big issue with using carpet cleaners is that the water usually cools off as time passes so you might not have warm water at your disposal after some time.
I find that the Bissell Proheat carpet cleaner can address this problem. The Bissell Proheat carpet cleaner comes with what is known as a Heatwave technology.
The Heatwave technology enables the cleaner to store water and keep it at a consistent temperature while you're cleaning. I personally find this feature very useful especially when I'm faced when very sticky stains that require a little heat to loosen up.
Aside from the Heatwave technology, this product does come with a few other cool features as well. It comes with a self-cleaning tool, a deep reach tool, and an easy-to-use removable tank.
Pros
Has Heatwave technology that makes water consistently warm while cleaning
Comes with a 3-inch tough stain tool
Deep reach tool for removing stains in low places
Easy to remove the water tank
Cons
Has trouble with old stains
Suction is not as strong as other products
4. Hoover Portable Carpet Cleaner
Probably one of my most favorite aspects of this carpet cleaner is the fact that it's extremely clean. I mean, it does get dirty because it scoops up dirt from carpets, but it doesn't stay dirty.
First of all, it comes with a self-cleaning hose. If you own a carpet cleaner, you're most likely aware that the hose tends to be the foulest smelling part of the carpet cleaner. That makes sense since all of the dirt goes through it.
To address this issue, the product has a self-cleaning feature wherein you just plug in your cleaner in a cleaning port and you'll be able to take out all the debris there. With all the debris and dirt gone, you won't have to worry too much about the smell.
Aside from that, it also comes with a dual tank technology. The dual-tank technology separates the dirty and the clean water into two different tanks so that the water won't mix. This makes cleaning so much easier and more effective than single tank cleaners.
Pros
Self-cleaning hose
Has a dual tank technology
Very lightweight and easy to carry
Deep cleaning spray
Cons
Rather flimsy built
Not strong enough to clean up after pets
5. Bissell Multi-Purpose Carpet Cleaner
The last on the list is another Bissell carpet cleaner. This is another product that also reaches quality standards because of its features. If you're looking for an all-rounder type of product, this is the one that you'd most likely want to check out. It's really reliable and pretty efficient as well.
One specific feature that you'll like about this product is the HydroRinse Tool. The HydroRinse tool is similar to the self-cleaning hose of the Hoover Portable Carpet Cleaner except this one actually rinses the hose pretty thoroughly. So if you're very particular with the sticky grime on the hose, you'll most likely love this feature.
Aside from its overall reliability, it's also really easy to use. The water tanks can easily be removed and the suction is rather efficient.
Pros
HydroRinse tool
Powerful suction and brush power
Small and ergonomic size
Compatible with various cleaning formulas
Cons
Does not specialize in pet stains
Not very durable in build
Conclusion
Now that you have 5 choices to choose from, you can now whip out the buying guide and make your decision. If you were to let me decide on which is the best car carpet cleaner based on the buying guide, I think I'd pick the Bissell SpotClean PetPro Carpet Cleaner. Since this product focuses on pet stains, you can guarantee that it is a powerful carpet cleaner since pet stains are some of the hardest to get rid of. It's known to have a power rating of 5.7 amps, 22-foot long hose, and large capacity. It's pretty much the cleaner that you'll want if you want a thorough job done. 
Recommended Reading: