If you buy an item via links on this page, we may earn a commission. Our editorial content is not influenced by commissions. Read the full disclosure.
Learn the tips and tricks in keeping your homes squeaky clean while maintaining the durability, design, and longevity of your tile floors. What is the best broom for tile floors in the market?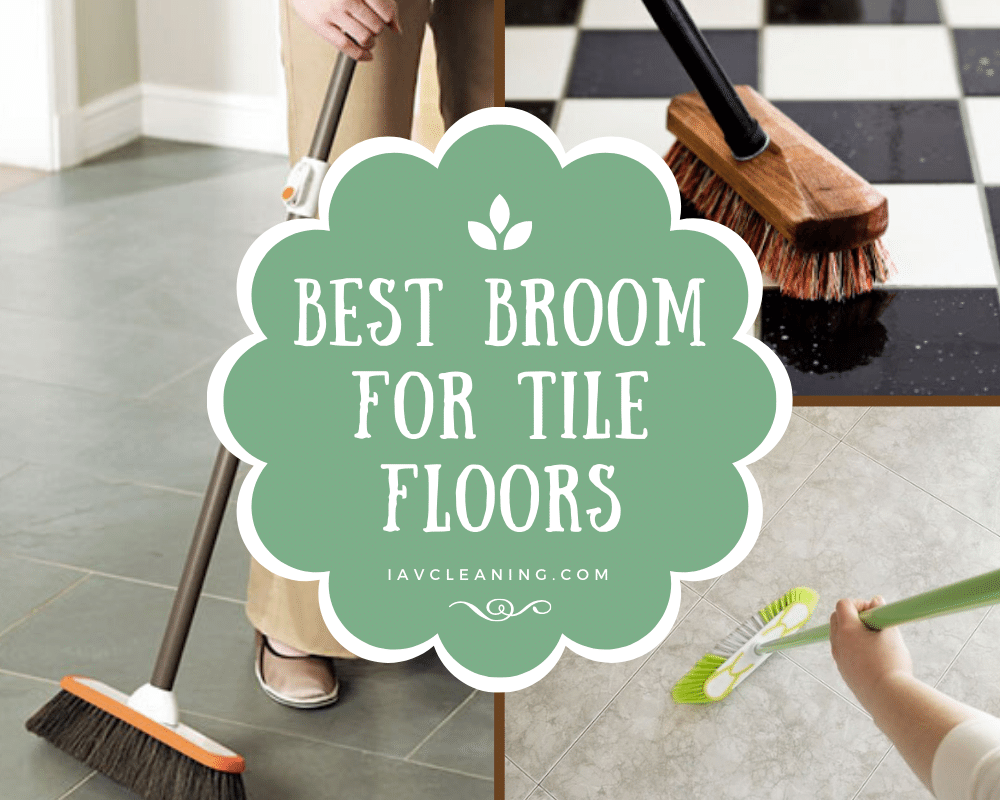 5 Best Broom for Tile Floors Reviews
1. Landhope Push Broom Floor Scrub Brush
This broom is intended to help in easy but soft scrubbing stains and removes dirt from your floor area. It has a durable head fitted with firm but soft bristles guaranteed to ensure its durability. The broom has a 45-degree angle for its head that enables only the right amount of pressure when doing the sweeping. It helps clean hard to reach spaces and corners. Its handle can be adjusted to your comfort. This broom is best for cleaning marble floors.
Main Highlights
Long-handle feature
Rubberized bristles
Adjustable handle feature
2. Nessentials Swiss UX
This broom has bristles made out of horsehair which is really soft to minimize and prevent abrasions on the surface. Its slim bristles can trap dust and even pet hair. Thus, it ensures efficient cleaning with less effort.
Its brush head is made out of highly durable Swiss beech wood. Its attached bristles are securely fixed to prolong its lifespan. This broom's brush head can be very easily connected to its handle for steady use. Its handle is made out of high-grade aluminum components, and it is also light for easy and comfortable sweeping. Moreover, it is specifically designed to provide outstanding grip for easy cleaning. Because of its removable handle, you can assemble and adjust the broom in the best position that works for you. This is suitable for almost all kinds of indoor floors.
Main Highlights
Horsehair bristles
Adjustable and removable handle
Light handle
High-quality Swiss beech wood brush head
Easy assembly
3. MEIBEI Push Broom
The broom has an adjustable handle that is made out of stainless steel, plus it is also long which makes it more suitable for sweeping tight areas and hard to reach corners. It has a squeegee built in it for easy cleaning and its parts can be easily installed and assembled which means less hassle for you.
This broom is suitable for almost all types of surfaces – tile floors, hardwood floors, etc. It may be used for both indoor and outdoor cleaning.
This is perfect for removing loose dust particles and debris. It has rubber bristles that easily captures hair and other dirt from floor – even pet hair. Mainly, it is best for gentle but thorough cleaning, thus ensuring the surface's protection from scratches and abrasions.
Main Highlights
Removes pet hair
Suitable for various types of surfaces
Easy handle adjustment
Squeegee built-in
4. CM Concepts Broom
This broom is very light and has special bristles that clean itself for easy use and storage – no hassle at all. It has a scraper feature where you let the bristles pass through in order to dislodge residual dirt and dust particles.
Its handle is made out of stainless steel for optimal use and ensuring durability as well. It extends up until 51 inches, providing easier reach to tight corners around the house.
Main Highlights
Self-cleaning feature
Adjustable handle
Lightweight feature
5. Leifheit 55243 Soft and Easy Foam Broom
This is ideal for cleaning smooth surfaces. This broom has a firm foam head that retains its shape even with daily use. Moreover, it is made with durable bristles that are specifically gentle and soft on the surface areas. Its long bristles are effective in trapping fine dirt – even pet hair. This broom makes sure to trap and remove dirt and dust particles without scratching the floors.
It has a versatile handle allowing you to adjust it to your comfort. It can extend up to around 52 inches for optimal cleaning even in the tightest spaces. This broom's handle is light and firm perfect for everyday cleaning.
Main Highlights
Easy sweeping
Adjustable handle
Gentle foam broom head
Why We Love Tile-Floorings
The majority of households make use of tiles for their flooring. This is essential because they blend both design and functionality perfectly. Not only do tile floors provide your house with a water-resistant protective layer against wear and tear, but they also add a beautiful finish to all your homes as well. However, just like any other, tiles can be damaged if not properly cared for, thus the need to carefully pick your cleaning tools from the best broom for tile floors to the cleaning products to make use of.
The Catch
Maintenance is a rather trickier aspect, especially for tile-floorings. Keeping your home neat and tidy can be a dilemma if your home has this kind of foundation. Despite the all-known fact that the broom is a floor's best friend, not all kinds are actually suitable.
Contrary to popular belief, rough cleaning tools may in reality cause abrasions and scratches on your tiles. Brooms are no exception. If you are using brooms with bristles that are too rough or firm, then you are doing your tile floors more harm than good. Not only will this result in superficial damages, but it will also lessen your home's defensive barrier against deterioration as well.
Moreover, while brooms maybe everyone's go-to cleaning tool, the truth of the matter is that not all may be very effective nor efficient in doing so. Although other broom designs and structures are entirely capable of thorough sweeping, others can barely clean off enough dirt.
The Key
Putting all those factors into consideration, it is no doubt that finding the best broom for tile floors is indeed vital. But do such things exist? How would we even know what we're looking for?
Figure out the type of broom you need – depending on the type of tile floors you have.
Determine the best broom according to the type you're looking for.
Types of Brooms
Most of us simply do not give the type of brooms a second thought – as long as they get the work done. However, it is actually important that you understand the broom type you need for cleaning specific areas in the house – in this case, tile floors. Doing so will help you take your sweeping skills to the next level! More importantly, cleaning will become more effective and efficient. You will never have to sweep the same area over and over again!
Standard Broom
This is the most common type of broom. A standard broom works wonders for small to medium areas. It is ideal for use indoors. This broom is mainly utilized for sweeping off dust, other debris, and particles. It's perfect for everyday cleaning.
Corn Broom
This broom is considered the ancient version of the standard broom. It is ideal for sweeping large spaces and is typically used outdoors. While known for easy sweeping of rather bigger debris, collecting dust particles, on the other hand, can be quite harder to do.
Push Broom
This special broom may be used both indoors and outdoors. The push broom has a wide and big head perfect for cleaning big spaces. It is normally used for special events that require a large cleaning scope.
Angle Broom
This broom is identical to the standard broom when it comes to their suitability for daily sweeping. The angle broom is typically used indoors. The only difference between them is that this specific broom has angled bristles. This makes the angle broom perfect for cleaning smaller spaces with hard to reach corners.
Rubber Broom
This broom is ideal for indoor cleaning as well and certain outdoor cleanings – if with smooth surfaces. As evident in its name, this broom has rubber bristles. A rubber broom is perfect for removing dirt and stains on the floors. However, dust collection can be challenging when using this one.
Broom for Tile Floors
Regardless of the type of broom you are using, what's important is that you determine its material. Tile floors are delicate, and using brooms with bristles that are too hard or firm may prove to be damaging. This is why the best broom for tile floors are the ones with its bristle ends made out of soft materials like nylon and rubber.
Not all tiles are made out of the same material. Some are more course and resilient than others. While this may be the case, it is still better to play it safe and stick with the tested and proven ones.
Conclusion
In a nutshell, maintaining your tile floors is easy when you have the best broom for tile floors – whether it's to remove stains, dust particles, loose debris, or pet hair. For tile floors, it is imperative that your brooms should be made out of soft bristles to ensure prevention from scratches and abrasions. This way we can ensure both effective and efficient cleaning as well as the lasting durability of your brooms.
Recommended Reading: