If you buy an item via links on this page, we may earn a commission. Our editorial content is not influenced by commissions. Read the full disclosure.
Are you struggling to keep your carpet clean? A carpet spot cleaner can definitely help! Here are some of the best carpet spot cleaner machines you can find on the market.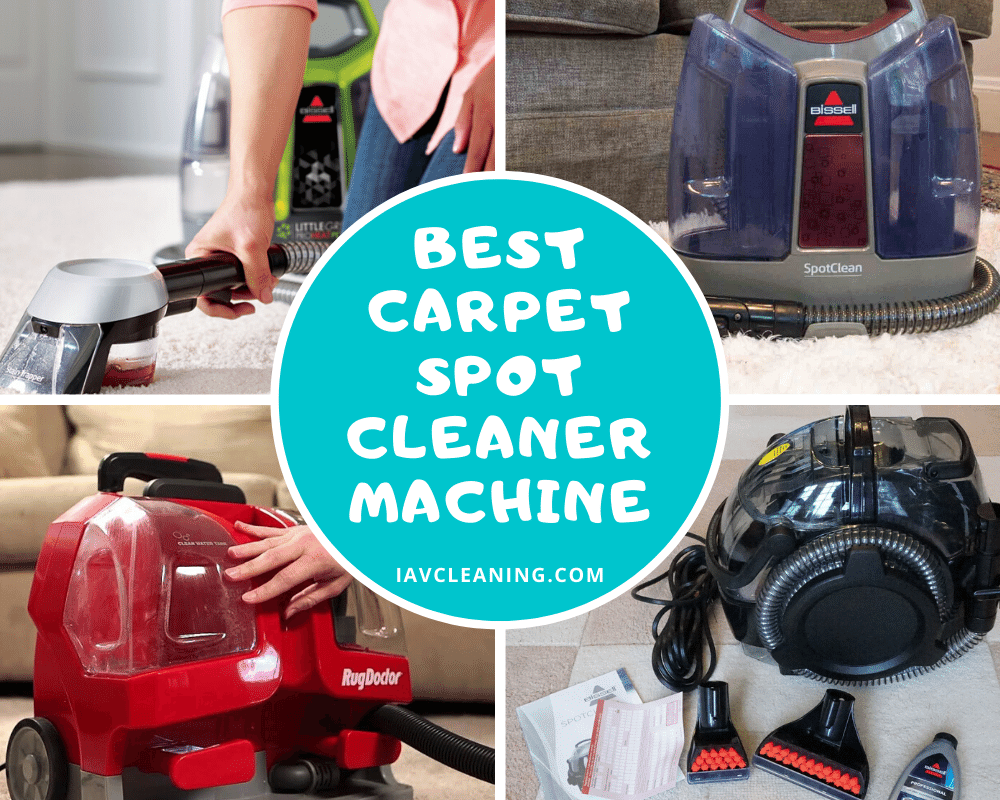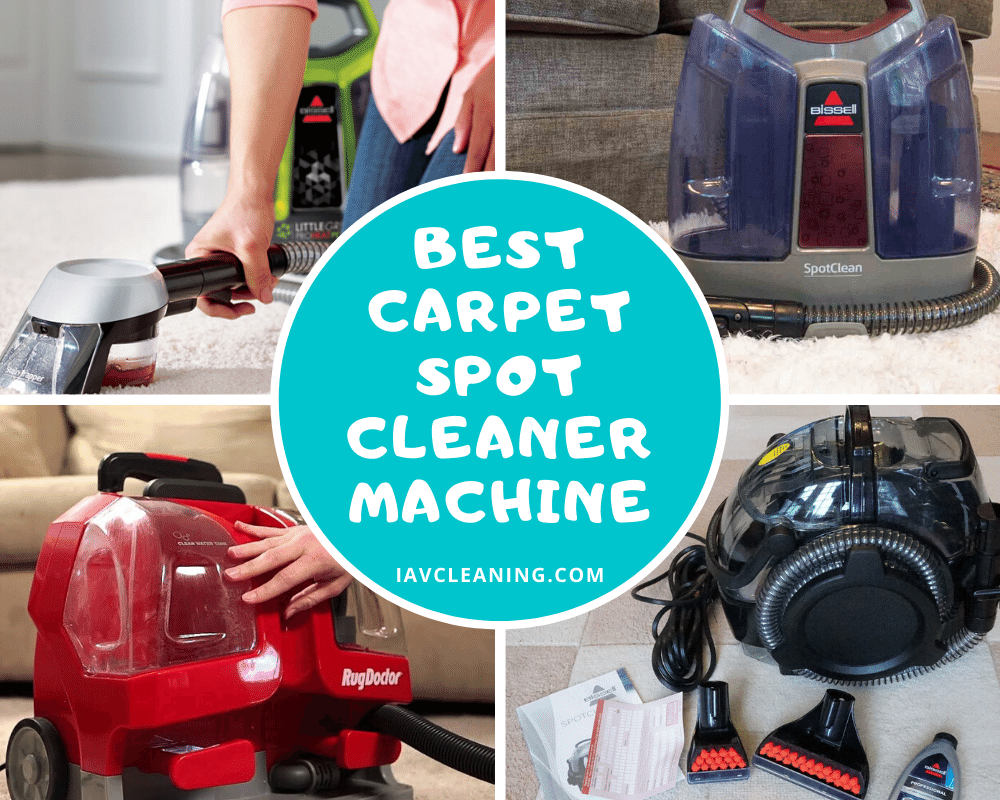 Carpet spot cleaners are one of the best options you can use to achieve in-depth carpet cleaning. However, with the many machines available on the market, choosing the best carpet spot cleaner machine can be rather difficult.
Therefore, we have created this guide (and a few reviews) to help you.
How to Choose the Right Carpet Spot Cleaner
The best carpet spot cleaner machine can be hard to find. In fact, it will all boil down to your individual cleaning requirements. That said, based on your cleaning needs, you can decide on the right carpet spot cleaner using the following factors:
1. Tank Capacity
Considering that spot cleaners are compact models, they won't be able to sport large-capacity tanks as with the full-sized variants. That said, the size and capacity of your chosen cleaner's tank will determine the number of trips you have to make to the bathroom just to complete the entire cleaning task.
Therefore, you'd want to go for cleaners that have their maximum water limit marked on their tank. The bigger the tank is, the less frequent you'll have to refill it. However, this could also mean the heavier it will be.
2. Suction Power
Another important thing you'd want to consider is the cleaner's suction power. It's ideal to pick a cleaning unit that has a powerful option. This way, you'll be able to get rid of dust and dirt effectively while keeping your carpet as dry as possible.
3. Cleaning Performance
The best carpet spot cleaner machine should be capable of removing even the toughest stains on your carpet. That said, you have to look for one which comes with a cleaning brush. You can either go for one with an oscillating brush or a brush attachment with a back and forth motion for effectively removing dirt and dust.
4. Compact and Lightweight Profile
Carpet spot cleaners are designed to be compact and lightweight, though some models are bulkier and heavier than others. Before you decide on a spot cleaner, you should consider the layout of your room.
If you have a wide and spacious area, it would be a lot better to choose a model which is both lightweight and compact. This way, you can move the equipment from one place to another with relative ease.
5 Best Carpet Spot Cleaner Machine Reviews
1. Bissell 3624 SpotClean Cleaner
The Bissell 3624 SpotcClean is a lightweight cleaner which can deliver excellent cleaning results. It comes with a flexible hose which is made for cleaning hard-to-reach areas such as those under furniture, upholstery, and corners.
Despite having a compact design, it sports a powerful scrubbing action, deep cleaning performance, and really powerful vacuum suction. It's not just meant for cleaning carpets, it can also take on auto interiors, upholstery, rugs, and more.
Included in the package are 3 tough stain tools, 6 stair tools, and an 8-ounce Professional Deep Cleaning formula.
Pros:
Effective in removing tough stains
Compact and lightweight design
Comes with a flexible hose for easy cleaning
Cons:
2. Bissell 1400B Little Green Cleaner
Next on this list is the Little Green which is another product from Bissell. At only 9.6 pounds, it's one of the lightest spot cleaners you can find on the market. It comes with a 15-ft power cord and a 4-ft hose.
What's interesting about the Little Green is the fact that it's made of 50% recycled materials – it can even be recycled as well! This makes it an excellent choice for those who are into eco-friendly products.
Performance-wise, the Little Green can deliver excellent cleaning power thanks to its powerful spray and suction which lets you clean and dry your carpet with ease. It also has a built-in water heater which is capable of heating water up to 25 degrees, making it effective at removing even the toughest stains.
Pros:
Features a built-in heater for effective cleaning
Eco-friendly and recyclable
Comes with a large capacity tank
Cons:
Its suction power isn't powerful enough
Not meant for heavy-duty cleaning
3. Rug Doctor Portable Spot Cleaner
This spot cleaner from Rug Doctor is one that will get the job of removing tough stains done. It's pretty powerful given the very low price it comes in, and despite being a lot heavier at around 20 pounds, that is easily offset by its carpet-friendly wheels and handlebar.
Moreover, its large size means that it can sport even more power and larger tank capacity. Speaking of which, it comes with a 64-ounce dirty tank capacity. Meanwhile, its 5.5-ft long cleaning hose allows you to reach those hard-to-reach areas without any problem.
Compared to most spot cleaners that fall within the same price range, the Rug Doctor cleaner has a relatively stronger cleaning and suction power.
Pros:
Excellent performance at a relatively cheap price
Features a dual tank system with a large capacity
Requires no assembly
Includes carpet-friendly wheels for easier maneuverability
Cons:
Can make a lot of noise
Quite heavy when the tanks are filled with water
4. Hoover FH11300PC Spot Cleaner
The Hoover spot cleaner is yet another compact and lightweight spot cleaner which can remove tough stains not just on carpets but on upholstery, furniture, and other surfaces as well. It's basically the combination of deep-cleaning tools and powerful suction to deal with stubborn dirt and stains.
One of its notable features is its self-cleaning function which helps you clean the hoses so you don't have to do it yourself. Aside from that, it's really easy to use. You can even refill its water tank without the need to manhandle the entire cleaner.
Additionally, it has the Dual Tank Technology which is perfect for separating clean water from dirty water with ease. With this, you can fill, empty, and rinse the tanks effortlessly. There's also a Bonus Expert Clean Gel included in the package to help you deal with stubborn stains.
Pros:
Comes with a self-cleaning function
Its Dual Tank Technology helps separate dirty and clean water effectively
Compact and lightweight at only 9 pounds
Cons:
Its suction power tends to weaken with continued use
5. BISSELL 2003T Pet Stain Eraser
Last on the list is yet another product from Bissell. The 2003T Pet Stain Eraser is, as the name implies, designed for cleaning pet stains on your carpet. That said, if you have a pet, this one makes for an excellent choice.
What sets the Pet Stain Eraser apart from the other products on this list is that it has a similar design to that of a hand vacuum except that it has a scrubber and a suction on its end. Once turned on, the cleaner will pump out a cleaning formula which then targets the stain. Afterward, its suction mechanism will then remove the stains like what a hand vacuum would normally do.
Another noteworthy feature of the Pet Stain Eraser is that it's cordless, allowing you to take it anywhere with you. This is an excellent choice if you have pets with you or if you have multiple floors in your residence.
However, if you're going to use it to remove pet stains on a regular basis, you have to be prepared to empty its tank every now and then. After all, its very compact design allows it to hold only a maximum of 8 ounces.
Pros:
Compact, lightweight, and cordless
Ideal for spot cleaning pet stains on your carpets
Handheld design
Cons:
Its use is limited to only 15 minutes
Not as powerful as the other spot cleaners on this list
Conclusion
Of the spot cleaners we've reviewed, the one we consider as the best carpet spot cleaner machine on the market is the SpotClean from Bissell. Its lightweight and compact build coupled with its excellent suction power make it perfect for removing even the toughest stains on your carpet.
Apart from that, it's capable of cleaning various other surfaces and even comes with a number of accessories to achieve that deep cleaning you need.
With all its features considered, you can surely trust us when we say it's the best there is on the market.
Recommended Reading: