If you buy an item via links on this page, we may earn a commission. Our editorial content is not influenced by commissions. Read the full disclosure.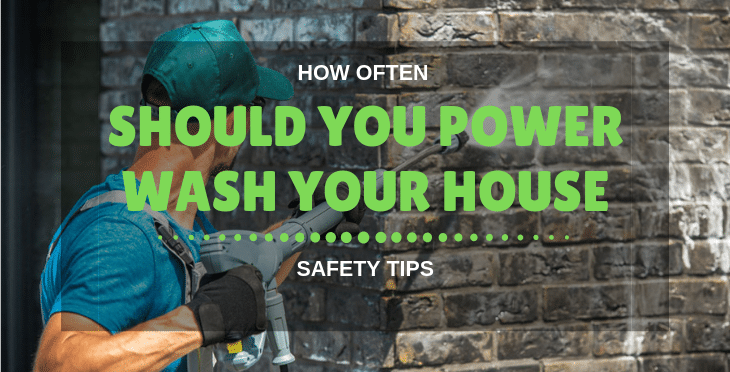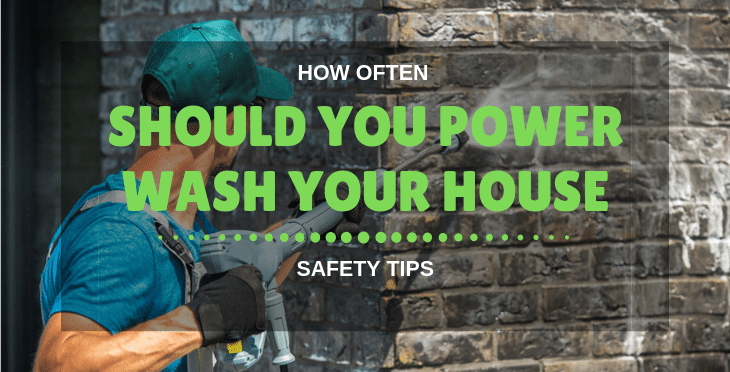 If you're new to power washing, the least that you should know is how often should you power wash your house. We'll share with you our thoughts on this.
No doubt that power washing is a really important part of cleaning your house. Power washing your house allows you to wash away those really stubborn stains or molds that are growing on parts of your home. Of course, this would result in two questions: how often should you power wash your house and when do you power wash your house?
In this article, we will be discussing how often to pressure wash your house, why it's important to pressure wash your house regularly, and some tips on how do you power wash your house.
With that, let's get started on the guide!
Why Power Washing Your House Is Important
Before we go to the answer to how often should you power wash your house, it's very important to first understand why power washing your home is really important. While you may think that regular cleaning is good enough, there are some stains and debris that won't be able to come off even if you use a regular water hose.
Pressure washers are extremely strong, so they have the ability to scrape out those hard-to-clean stains and debris. Coupled with some detergent or cleaning solution inside, you can totally wash away dirt and fully clean your home's exterior.
Aside from stubborn dirt, pressure washers also have the ability to wash away mold and mildew growing in the unreachable parts of your home. Mold and mildew are pretty hard to take away through traditional cleaning methods, so the only way to do so is through the power of a pressure washer.
How Often Should You Power Wash Your House?
Now that you know why you should pressure wash your home regularly, let's move on to how often you should. Most experts would actually give fixed timeframes on when to pressure wash your house, such as once a year or once in two years.
However, we believe that there is really no fixed number of times in a year you should pressure wash your house. Rather, you should pressure wash based on the situation. If you do this, you will really be bound to pressure wash your home regularly.
Why Do We Suggest This?
If ever you pressure wash your house at a fixed date every year even if it's still clean, you will most likely have to pressure wash it again within the year when mildew grow. That said, you will end up pressure washing your house twice that year. We don't recommend this because pressure washing too many times may damage the paint or wood of your home.
That said, here are the situations you need to note before you pressure wash:
If you see the growth of mildew and mold
This is the main reason as to why you would want to pressure wash your home. Since mold and mildew grow more often in hot and humid regions, you will want to pressure wash your house more often if you live in these climate conditions. That said, you must always take note of when the mold and mildew grow before you decide to pressure wash your home. Then, you can use that timeframe as your basis for scheduling.
If you will repaint your home
It is definitely recommended that you clean your house very well before you repaint your home so that the dirt or mold doesn't get painted over.
If your house looks extremely dirty
Some places are more prone to dust storms or dirt accumulation. These are usually in tropical regions or in places that have lots of construction projects in the area. If you notice that your house is getting dingier than usual, pressure wash it.
Lastly, you pressure wash if you plan on selling your home. Of course, you want your house to look its best before it meets its new possible owners. With that in mind, clean it well.
Safety Tips
Before we end, we'd like to remind our readers that pressure washing can be dangerous if not done properly.
Here are some safety reminders to remember:
Always wear goggles, boots, gloves and long pants.
Always point the wand down if you're not spraying anything.
Don't spray in small places.
Only turn on the pressure washer when your feet are firmly planted on the ground.
Don't spray near electrical equipment.
Conclusion
With all these information given, you now know how often should you power wash your house. Thus, we'd say that you should really just pressure wash your house when needed. It may take a bit of experience to know exactly when but it's a better and safer choice than washing every year or so.
Recommended Reading: