If you buy an item via links on this page, we may earn a commission. Our editorial content is not influenced by commissions. Read the full disclosure.
All you need to know about electric mops and why you should get one. Read all types of electric mops and choose the best electric mop from our review.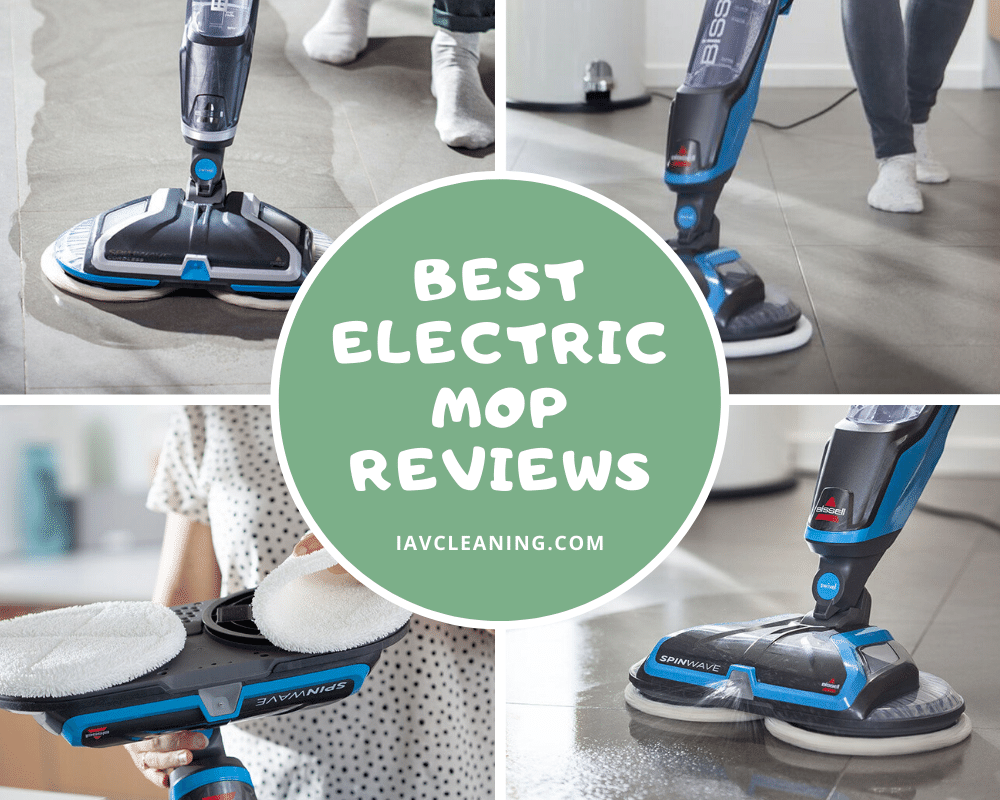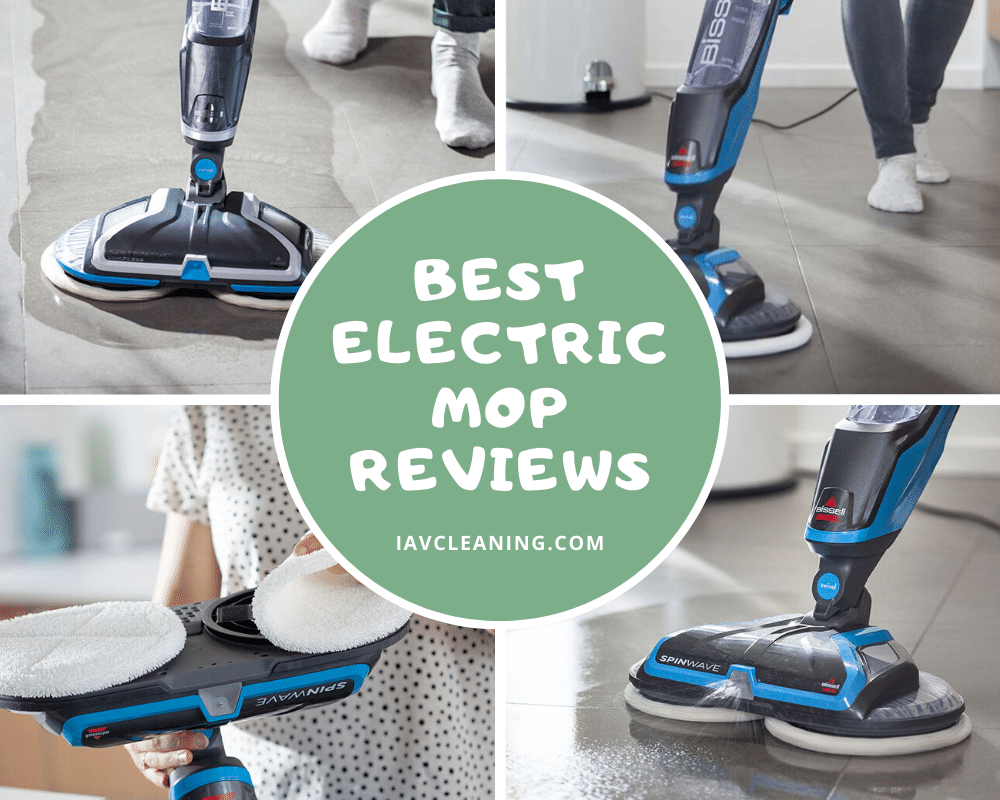 Most homeowners know just how tiring it can get wringing out your mop while dragging around a bucket all over your house just to get some cleaning done. The bigger the house or the trickier the flooring, the harder the task may seem.
Thankfully, technology has given us several types of electric mops to make cleaning easier, if not, even fun! Keep reading to see all types of mops as we help you choose the best electric mop in town.
Electric Mop Vs. Regular Mop
Although Regular mops are typically no-nonsense when it comes to how to use them as compared to some variations of electric mops that might need a little more getting used to, regular mops tend to require more steps for you to do.
Electric mops typically only either require you to switch it on and start mopping, switch and spray water from the mop itself from time to time, change some mop pads, or simply just clicking a button and letting it roam.
As for regular mops, you have to always prepare mopping water, squeeze excess liquid out every single time, change the mop water, lug around the mop bucket, and so on.
Electric mops are easy to use because they are built to cut out as much of your involvement in the mopping process as possible. In fact, there are even robot mops who can move around on their own without you even having to hold them at all.
Efficiency of a mop refers to how good it is at cleaning up or mopping your floor. Different types of electric mops have different levels of efficiency when it comes to cleaning up mess. For regular mops, most of them have the same are pretty efficient, but it's highly dependent on your own mopping skills and the type of material the mop head is made of.
Electric mops on the other hand have pre-set efficiency levels by nature and your ability to handle them have little to no bearing on how good of a job it gets done. The efficiency of electric mops however depend on the type of flooring you have, although this is pretty much the same case for regular mops.
When it comes to how much of your energy and effort gets saved, electric mops definitely take the win. As explained a while ago, electric mops are designed for your comfort.
Although most mops will still require you to hold on to them and move them around, there are even models like the robotic mops that will move around your house on its own, using sensors to direct itself.
Electric mops even come with different functions like sprays, steamers, and even buffer heads so that you don't have to exert effort into soaking them, squeezing them, drying the floor, or even scrubbing hard.
Different Types Of Mop And Their Cleaning Applications
The world of electric mops is a vast one, and our current market is full of different types and makes of electric mops that make cleaning the house a blast for you.
You may realize though that some of the electric mops available at appliance stores or online are a mix of two or more types of the seven (7) classifications we've listed below.
Here are a few of the most common electric mops available today:
1. Steam Mop
Unlike traditional mops that require soapy mop water to help clean dirty floors, steam mops make use of steam to help clean sticky spots and stubborn messes. They have a built-in compartment for you to put water inside, and then the machine will do the work to generate its own steam from it. They are mostly used for cleaning dry, sticky messes and not large wet messes.
Another key thing to note is that these mops should not be used on unsealed hardwood flooring to avoid steam getting into the crevices, although this is the same problem you would have when using traditional mops on unsealed flooring.
2. Electric Spin Mop
Electric Spin Mops typically have two circular pads that rotate around to clean messes using friction instead of your scrubbing force. This greatly reduces effort on your part and is therefore a recommended mop for elderly or differently abled people.
Some models can even over your different mop paddings like soft mop pads, scrubbing pads, and even buffing pads for polishing. These however, much like the spray mop, are not meant to soak up big wet messes.
3. Spray Mop
Spray mops are the closest thing to traditional mops as you can get among all types of electric mops. Spray mops have a water container and spray built into them so that you can spray just the right amount of water onto your floor without the hassle of lugging around a bucket and squeezing out excess water all the time.
Once again, this model is not suited for sucking up large amounts of liquid. More often than not, spray mops are simply features that are added unto other types of electric mops, creating hybrid mops that can make cleaning even easier.
4. Robot Mop
This type of mop is the easiest to use, especially if you are a busy person. All you have to do is to simply switch on the robot mop and watch as it goes off on its own to clean your whole house. More often than not, robot mops also come with a vacuum function too.
Depending on the model you will either have to wash and change the cloth afterwards or simply throw it away and get another disposable cleaning cloth to replace it.
5. Wet-Dry Vacuum
A wet-dry vacuum is a hybrid electric mop that not only mops but also vacuums. This type of vacuum is one of the only electric mops that can handle any type of mess, including large wet puddles.
In fact, unlike the traditional mop that will spread the dirty liquid around your floor as it sucks it up, the wet-dry vacuum is capable of sucking it up and mopping it away without spreading it everywhere. They only work you have to put in is to change the padding and to empty out the tank.
6. Heavy Duty Floor Cleaner
You might have seen a lot of these at commercial or public spaces like malls, schools, and hotels. Heavy Duty Floor Cleaners are the electric mops that can buff, sand, clean, strip, and wax your floors perfectly.
Some level of skill or at least strength is required to use this model efficiently and it's not something that a regular homeowner would need to use day to day.
7. Power Scrubber
This is a type of electric mop that is not used for soaking up liquid at all. Power scrubbers are built for one thing, and that is to get rid of stubborn dirt and grime in tight spaces and bathroom, tile, or pool linings that need more than just a plain sponging.
These greatly reduce the need for you to use extra strength trying to get rid of tough stains too as power scrubbers are drill powered.
Comparison Table Of The Best Electric Mops
| | Model | Best Use For. . . | Price |
| --- | --- | --- | --- |
| #1 | Light N' Easy All-In-One Steam Mop | Marble, tile, grout, ceramic, stone, vinyl, laminate, sealed wood flooring, garments, and upholstery | See Details |
| #2 | Light N' Easy Steam Mop | All types of flooring except unsealed hardwood | See Details |
| #3 | Bissell Spinwave Powered Hardwood Floor Mop and Cleaner | Tile, sealed wood floors, laminate, linoleum, vinyl | See Details |
| #4 | Costway Electric Spin Mop | Laminated,Tile, Marble, hardwood, and bamboo floor | See Details |
| #5 | Costway 1300 Watt Steam Mop | Marble, tile, grout, ceramic, stone, vinyl, laminate, sealed wood flooring, mattresses, carpets, and upholstery | See Details |
The Best Electric Steam Mop
Among five (5) of the most popular and widely-purchased electric mops in the market right now, the 1300 Watt Steam Mop from Costway is our pick as the mop that gives you the most bang for your buck.
This is not only the top electric steam mop in the market right now, but it is also our pick as the best electric mop for adults, the best electric mop for hardwood floors, the best electric mop for tile floors, the best steam mop 2020, and without question, the best electric mop 2020.
The Costway 1300 Watt Steam Mop is a no-nonsense model that does exactly what its name says it does. It is an excellent steam mop, the best electric mop for wood floors, and yes, even for unsealed ones, because its high steam temperature makes the floors dry very fast, not leaving any excess moisture in the crevices.
It comes at a great price and does an even greater job by not only steam cleaning your floors but also your carpet, upholstery, and even your bedbug full mattresses. It's not just the cheapest on our list, it also comes with functionalities that electric mops twice its price promise.
Pros
---
At 4.8lbs, this is one of the lightest units on the list
Comes with a washable microfiber mop pad
1500-watt power rata Includes utility heads (squeegee and fabric steamer head)ing
It has eight (8) different steam settings to suit all your needs
Steam heats up in 30 seconds
Cons
---
Needs to be plugged in
Mop pads and steamer tank need to be cleaned
High steam settings are not safe for children and pets
Mineral water and oils may cause buildup on steamer
Things To Consider Before Buying An Electric Mop (Buying Guide)
Before you go ahead and decide to get yourself an electric mop, there are a few things you must consider so that you are sure you get nothing but the best electric mop. Different people have different needs, and not everyone has the same type of household and home.
Read through the three (3) most important things to consider before purchasing an electric mop:
Each electric mop functions best on certain flooring types. Some mops are better suited to tiled floors or marble, while other electric mops fare better with hardwood and linoleum flooring.
This is probably the first thing you should consider before even stepping into an appliance store. Once you know what you will use the mop on, it will be easier for you to narrow down your choices.
Additionally, if you are looking for an electric mop that has multi-functions including steaming capability that you want to use on carpets, mattresses, and maybe even clothes, it's best to consider whether this is really a necessity or just an added perk for you.
Sometimes, the mere fact that a simple steam mop can be used to steam press clothes can double the price of the mop for you.
If you are someone who is very busy and don't really have time, you might want to consider an electric mop that is faster or just plain automatic like the robot mop. If you are someone who has kids who can do chores, you might want to get a mop that is adjustable so that they can use it just as easily as you can.
Maybe you are someone older or you have weak wrists, getting a mop that scrubs on its own so you don't need to exert too much effort may be what you should get. Aside from this, consider the type of spills, stains, or messes you might make in your daily life.
Will you require an electric mop that can soak up lots of fluid mess? Will you need an electric mop that can scrub away even the toughest of grime?
As you can see, depending on who you and what your life is like, the type of electric mop you will need and look for will differ from other people. Carefully consider your household and yourself first before deciding on a purchase.
A typical electric mop will cost you, on average, somewhere over or under a hundred bucks, all depending on what kind of functions it has to provide. It's always best to set a budget first before you head off to a store to see what they have so that you don't base your purchase on what was the cheapest and most expensive piece in-store, but what was cheaper or more expensive than your budgeted amount.
Electric mops will one day either need repairs or mop pad changes. These are also additional costs you must consider before you decide on the best electric mop for you.
5 Best Electric Mop Reviews
#1 Light N' Easy All-In-One Steam Mop
Light N' Easy's All-In-One Steam Mop is not only your dependable steam mop but it also has a detachable handheld steam cleaner that you can use to iron your clothes, clean your furniture, and deep clean your kitchen and bathroom.
It uses 110°C steam to lift and clean even the toughest of messes. This is an affordable model with a great clean look and a lightweight body.
Pros
---
Steams in 30 seconds
Multi-Functional and can detach to be handheld
Smart Switch, electricity-saving function
Cons
---
Cannot be used on unsealed floors
Plain tap water can cause mineral build-up (distilled recommended)
---
#2 Light N' Easy Steam Mop
This steam mop is Light N' Easy's more traditional steam mop. Unlike the All-In-One steam mop, this not come with a detachable handheld version that can be used for steaming cloths, upholstery, and other places the standard steam mop can't reach. This is one of the cheapest steam mops you can get.
Pros
---
Steams in 20 to 30 seconds
Flexible mop head
Kids and Pet friendly
Cons
---
Cannot be used on unsealed floors
Plain tap water can cause mineral build-up (distilled recommended)
Reusable pads and carpet gliders come separately
---
#3 Bissell Spinwave Powered Hardwood Floor Mop
The Spinwave Powered Hardwood Mop by Bissell is a good example of a hybrid mop that is both an Electric Spin mop and a Spray mop. This mop is perfect for hardwood flooring because not only is it powerful enough to remove sticky spills, the mop pads are soft enough to prevent scratch or skid marks on your floor.
This model even comes with a separate soft mop pad and a scrubbing mop pad.
Pros
---
Swivel mop head
On-demand, built-in spray
Includes sample cleaning formula and spin mop pads
Cons
---
Cannot be used on unsealed floors
Pads require manual changing
Heavier than other models
---
#4 Costway Electric Spin Mop
Costway's Electric Spin Mop is another hybrid electric spin-and-spray mop that comes in one of the sleekest designs yet. It is ergonomic with how the handle is adjustable from 36 inches up to 48 inches to accommodate different heights and the mop can be handled from 0 to 90 degrees. This is an affordable model with great functionality.
Pros
---
Cordless, battery powered
LED light to see clearly
Adjustable height
Cons
---
Needs recharging
Pads and liquid needs to be changed manually
---
#5 Costway 1300 Watt Steam Mop
The Costway 1300 Watt Steam Mop is a multi-function mop that can be used for mopping floors and steam deodorizing and sanitizing of carpets, mattresses, and upholstery. It is the most affordable electric mop on the list, with a sleek black finishing and very light body.
Pros
---
Eight (8) speed adjustments
Swiveling triangular mop head to reach corners
Washable microfiber pad
Cons
---
Requires manual assembly
Not all steam settings safe for children and pets
Safety Tips
Electric mops, like any other appliance or electronic device you may own, come with instruction manuals and cautionary notes.
No matter which type of model of electric mop you get, you have to make sure you familiarize yourself with the appliance so as to avoid any possible accidents that could occur.
Here are some general safety tips when it comes to purchasing electric mops:
1. Always check the voltage of any electric mop to make sure it matches the capacity of your outlet.
2. Make sure the model is suitable for your flooring type.
3. For steam and spray mops, make sure you clarify which types of liquid are allowed inside the tank to avoid spillage, blockage, and build-up.
4. Know the highest temperature the steam of your steam mop can reach.
5. Keep steam mops away from children and pets.
6. If assembly is necessary for the model, make sure you follow the instructions carefully.
Even after reading and understanding the safety precautions of owning and using an electric mop, unprecedented and unforeseen accidents can occur. It is always best to have a first-aid kit ready and access to reach emergency services on hand. There's not much to fear though considering that a lot of our modern appliances come prepared for technical issues, making them designed to be virtually harmless even if things break down.
Conclusion
Technology allows us to make things in life simpler and easier for us. After considering all the things we told you about electric mops, their types, and what to consider before buying one, you may now go and check out what your local appliance store has in-store for you.
If you'd rather shop online instead, how about you give our recommendation a try and see if the Costway 1300 Watt Steam Mop is best electric mop for you, just as much as it is ours. Always remember, the best electric mop is the mop that serves you and your specific needs.
For a clean, healthy, and happy home, try it out now!