If you buy an item via links on this page, we may earn a commission. Our editorial content is not influenced by commissions. Read the full disclosure.
Want to know what's the best Greenworks surface cleaner review this 2020? Get to know the top choice in terms of affordability and performance!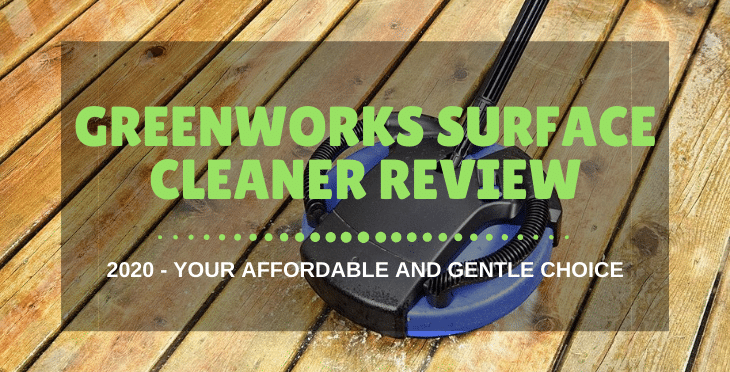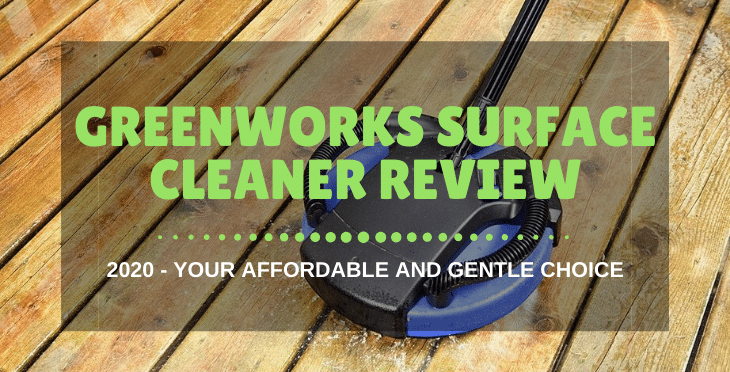 Greenworks surface cleaner has always been a favorite by many homeowners because of its simple and user-friendly design, as well as its impeccable efficiency.
It's true that this Greenworks 30012 surface cleaner is not the top 1 pressure washer attachment out there, but this is undoubtedly a staple for people who aim to make floor cleaning a much easier and less hassle job.
But before we dig into the review, let's find out what really makes Greenworks a household name in terms of the best pressure washer attachment for home use.
Why Do Homeowners Choose Greenworks Surface Cleaner?
The brand specializes in lightweight pressure washer machines and attachments with compact and portable design. Its surface cleaner usually has a cleaning power range from light- to medium-duty.
Below, we'll discuss the top reasons why Greenworks surface cleaner is popular:
Availability
Believe it or not but not all pressure washer surface cleaners are easily accessible. However, Greenworks has always proven the test of time and that is why many pressure washer retailers, both online and offline, are choosing to add Greenworks pressure washer and attachments to their shop.
As a result, you can easily locate and buy the latest Greenworks products as soon as it is available.
Affordability
It is perhaps one of the budget-friendly, if not the cheapest, light-duty pressure washers to date. For instance, the Greenworks 15-in pressure washer surface cleaner costs less than $40. Isn't it a winner?
Efficiency
Greenworks has always been recognized as a brand that produces environmentally friendly products, including the 30012 surface cleaner.
The 30012 surface cleaner doubles the cleaning power of a pressure washer; hence, you can clean an area in less time. This means you get to save more water as less time is needed to complete the task.
User-friendly
What we love about the surface cleaners from Greenworks is its simple yet user-friendly design. There are no complicated buttons or switches. It pretty much has a straightforward design that even a complete noob in pressure washer surface cleaners can follow the instructions easily.
The Best Greenworks Surface Cleaner Review 2021
If you are curious which Greenworks pressure washer surface cleaner is best for home use, then you will be happy with our recommendation below:
Greenworks Surface Cleaner Universal Pressure Washer Attachment 30012
You may be wondering, what makes Greenworks 30012 surface cleaner so great?
For one, it is a universal surface cleaner attachment and is compatible with all pressure washers from Greenworks. Moreover, it is also suitable for pressure washers that have a PSI level of up to 2000 PSI. This specification is already impressive, given that you use it to clean the floor that is usually made from tiles, marbles, woods, or other concrete floorings.
What Customers Have To Say?
We have reached out to some of the loyal users of Greenworks and they have to common reasons why they choose to stick to the brand.
Firstly, they only need a Greenworks pressure washer surface cleaner for home cleaning tasks. That said, they emphasized that there is no need for them to buy a gas pressure washer coupled with a high PSI surface cleaner.
The second reason is that Greenworks is very affordable. You can get an amazing surface cleaner from this brand in prices that range from $30-$50. And all these surface cleaners are efficient in doing their job.
Best Features:
Has a PSI limit of up to 2000 PSI
Suitable for sidewalks, patios, decks, indoor floors, and pathways
Uses quick-connect connections
Compatible with pressure washers from selected brands (just check the connection type)
Compatible with all Greenworks pressure washers
Affordable
The best pressure washer attachment for floor cleaning
Saves water by cleaning an area faster than most attachments
There is, however, one important reminder that users of Greenworks surface cleaners want to share – always read the specifications and cleaning applications of the surface cleaner. This will make expectations clear and avoid regrets in the end. If you know what and what not your surface cleaners can do, you can maximize its use and get the most out of it.
Recommended Reading: