If you buy an item via links on this page, we may earn a commission. Our editorial content is not influenced by commissions. Read the full disclosure.
Is Simpson surface cleaner the right attachment for your pressure washer? Yes, if you know which model to buy. Read here to find out!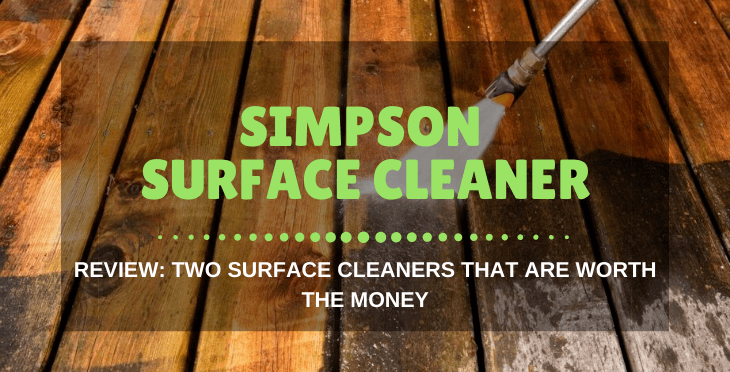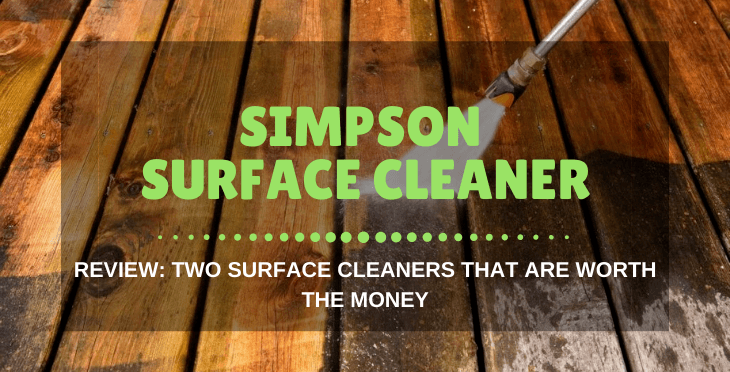 If you have a Simpson pressure washer, then it is only reasonable to buy a Simpson pressure washer surface cleaner.
But how do you know which cleaner is worth your money?
We have picked the best Simpson 15 inch surface cleaner that many people (including us) highly recommend.
Take a closer look below:
The Best Simpson Surface Cleaner 2021
Simpson Surface Cleaner 80165
There is no better choice for your gas-powered Simpson pressure washer machine than this 15-inches surface cleaner.
This is a universal surface cleaner with a steel surface scrubber. Therefore, you can expect this cleaner to remove even the toughest stain on your flooring. It has 15 inches coverage, so you can clean more area in just one sweep.
It is specifically made for medium- to heavy-duty cleaning applications since it can withstand high pressure and water volume.
Simpson Pressure Washer Surface Cleaner Reviews
No product is absolutely perfect. This means that what is perfect for one may not necessarily be the same for others. In the same sense, not all people think that Simpson surface cleaner is the best attachment for all pressure washers, but many agree that it excels in some cleaning applications that it specializes
Looking through some reviews of long-time users of this attachment, they have two main reasons why they love this product.
First, Simpson surface cleaner has an incredible cleaning mechanism. Thanks to its stainless steel nozzles, dirt and stains can be scrubbed off easily with less effort on the user's part.
Secondly, most of the people who have tried using this surface cleaner can vouch for its durability. The surface cleaner itself is coated with steel shroud, thus making it resistant to high-impact operations.
Pros:
It can withstand water pressure of up to 3600 PSI and 2.2 GPM flow rate, which is perfect for tough cleaning tasks.
Using warm water cleaning is not a problem with this attachment since it can handle up to 140 degrees Fahrenheit water temperature.
The materials used ina ll parts of this surface cleaner are durable yet light enough for petite users to use.
Suitable for both indoor and outdoor use such as sidewalk, driveway, basement, garage, and garden cleaning
Has high-pressure jets and nozles for an optimum cleaning
It is compatible with most gas pressure washer wands.
Does not leave streaks and marks on the surface
Uses universal connections that fit standard ¼ inch spray wands from most brands
Cons:
It is not advisable to use for hot water pressure washers.
The nozzles are advertised as rotating nozzles but some models' nozzles do not spin.
Simpson Surface Cleaner Parts
If ever you have decided to buy a Simpson surface cleaner or you already have one, it is important to know the parts so that you can care for it (when a repair is needed) and make it last longer.
Get to know the Simpson surface cleaner parts below:
Twin Nozzles– It has two stainless steel nozzles that are really useful when cleaning driveways, sidewalks, and other concrete floorings.
Powder-coated Steel Shroud- This is the part that protects the nozzles while in use. This also helps lessen the vibration and impact when using the surface cleaner.
Bristle Spray Skirt- This is a flexible skirt that controls the overspray and also protects the adjacent surfaces. Because of this feature, the Simpson surface cleaner is suitable for cleaning patios and garages.
¼ Male Connector- This is the part that allows you to connect the surface cleaner to the pressure washer spray wand. If you are using a different pressure washer brand, you have to check first the connection of the machine to see if the Simpson 15-inch pressure washer surface cleaner is suitable or not.
Simpson pressure washers are known for their gas-powered pressure washers and that is why the brand made sure to also produce attachments that can keep up with their pressure washer's performance.
The Simpson surface cleaner 80165 is indeed the best surface cleaner attachment for Simpson pressure washer owners.
Recommended Reading: